Sustainability, digitization and workplace management were all key factors in this year's two cases. Eight student teams presented ideas on how to reposition products and service offerings to consumers and businesses, considering changing industry landscapes and consumer behaviours, and the disrupting effects of the Covid-19 pandemic.
EcoSpark Advisory from Lund University in Sweden won the first case, presented by Sbanken, where teams were asked to help Sbanken reposition, sell and market consumer loans with their sustainability ESG policy in mind. The Swedish team won after suggesting that the company should invest in an education platform, create incentive programmes, and adopt a new marketing strategy. Sbanken were so impressed that they invited the students to present their solution for the company's top management.
ISS Facility Services, a market leader in Norway and Northern Europe, presented the second case. Students were tasked with creating ideas for how the company could develop their products and concepts to align with a new workplace situation after Covid-19 disrupted the way we work.
Given 30 hours to mobilize and develop their ideas, two student teams were ultimately chosen to present their solutions in this year's big final. The jury included representatives from BI's strategic partners Tine, Gjensidige and ISS. In the end, RICA Consulting from Copenhagen Business School came out on top, with ISS stating that their solution was both plausible and had a long-term perspective.
Embracing the new normal
While sustainable and digital solutions were key to all the team's solutions, they were all driven by the notion of embracing 'the new normal'. The workplace as we know it might be subject to radical change in the upcoming years, but "how radical" was the question often asked during the competition.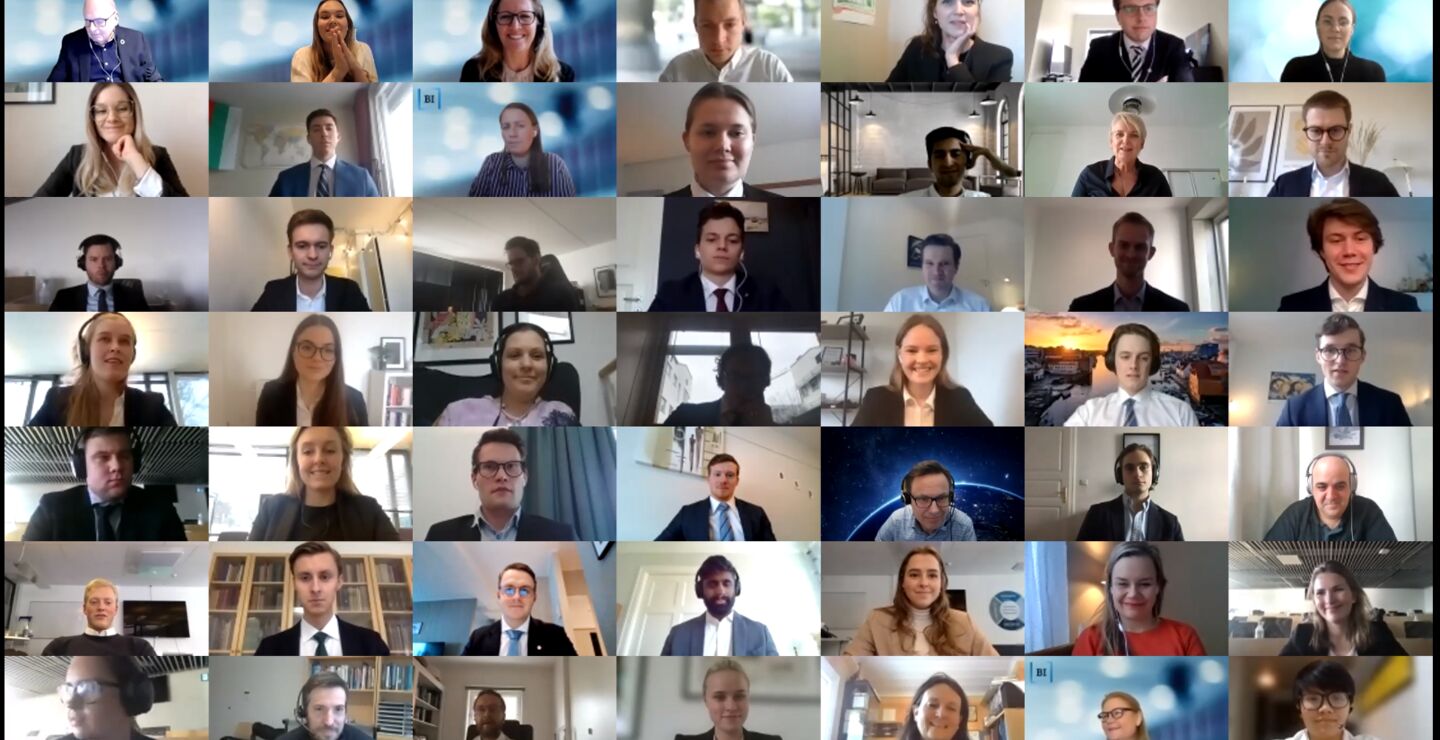 Several teams, including RICA Consulting, put forward that ISS must cater to the workspace of tomorrow, invest in new sensor technology, and rethink their business model. However, the Danish team went further than most by suggesting even more concrete initiatives.
The students from CBS recommended that ISS, a people-centered company at heart, should focus on key areas such as cleaning, food and workplace management. Specifically, they suggested that ISS could create a platform that enables integrated workspaces, as well as increasing the availability and variety of services offered for end-consumers.
The Danish team proposed that ISS should invest in sensor technology that would extend ISS' value proposition by providing end-users with more personalized services that could transform the experience of working in an office.
"Genuinely impressed"
BI and the school's strategic partners all share a keen interest in sustainability topics. BI's own strategy is also focused on the school's responsibility for "shaping people and business for an international, digital and sustainable future".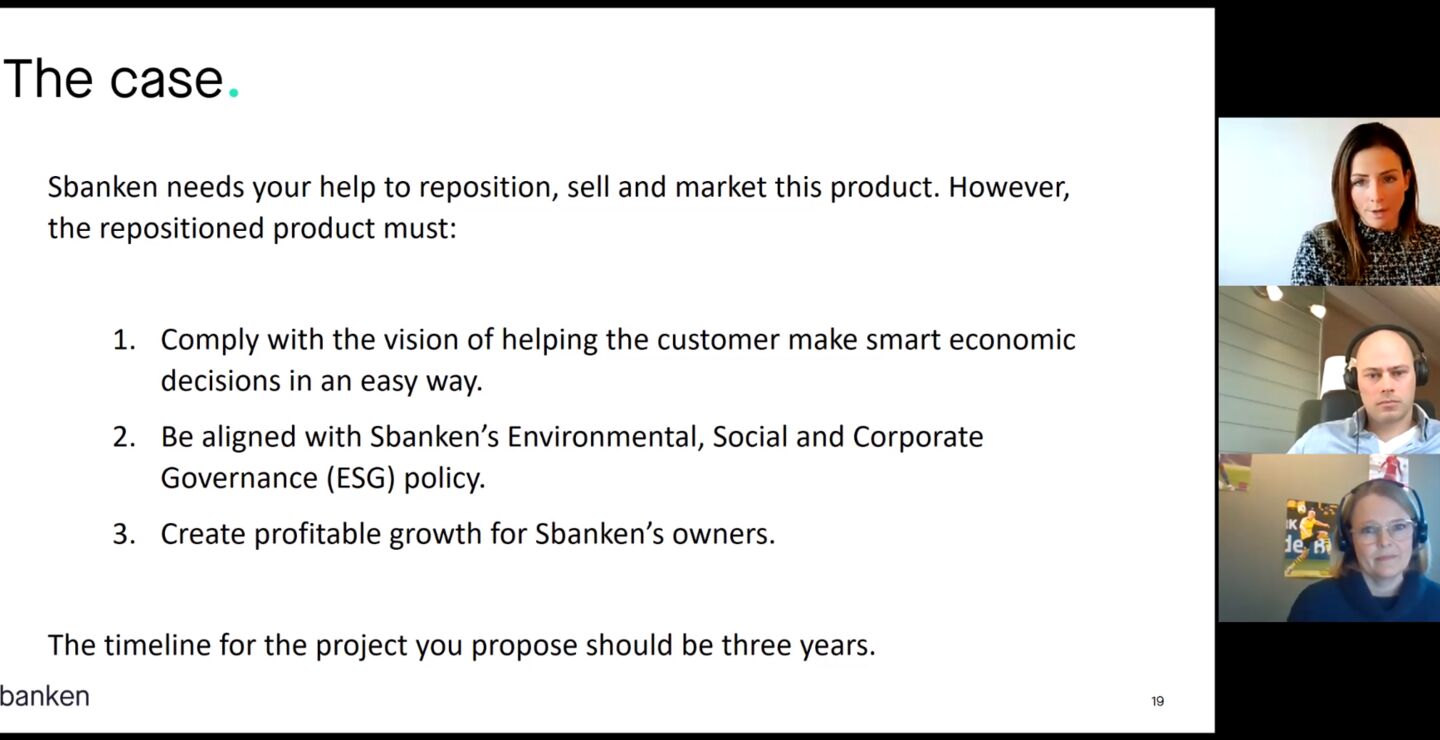 With that in mind, this year's case competition aimed to help businesses incorporate sustainable thinking when developing new products and services for today's market.
"I am genuinely impressed with the solutions put forward in this year's BI International Case Competition. Considering the short amount of time given, we in the jury felt they did very well. They have really stuck their nose into the issue in question and presented constructive, innovative and sustainable solutions", says Caroline Dale Ditlev-Simonsen, jury member, Co-Director of BI's Centre for Corporate Social Responsibility and Professor at BI's Department of Law and Governance.
A different year for BIICC
Last year's BIICC was held not long before Norway went into its first major Covid-19 lockdown. This year, closed borders and remote working posed a few challenges for the BIICC team. Still, calling the event off was never an option.
"BIICC is an important event for BI, connecting students and the business community across cultures and borders. With the lockdown, we decided we would not postpone or cancel the competition, but simply adapt to the situation. In the end, this is what spurred the first ever fully digital version of the BIICC, as well as making this year's competition a Nordic Edition", says Hilde Spæren, BI's project manager for the BIICC.
Networking and socializing, including excursions, dinner parties or casual chats at the participants' hotel, is usually equally important for the contestants as the actual case-solving and presentations. By adding online social activities to this year's agenda, and by focusing on creating a warm and positive atmosphere during the Zoom sessions, the BIICC still offered students frequent opportunities to network and connect with each other.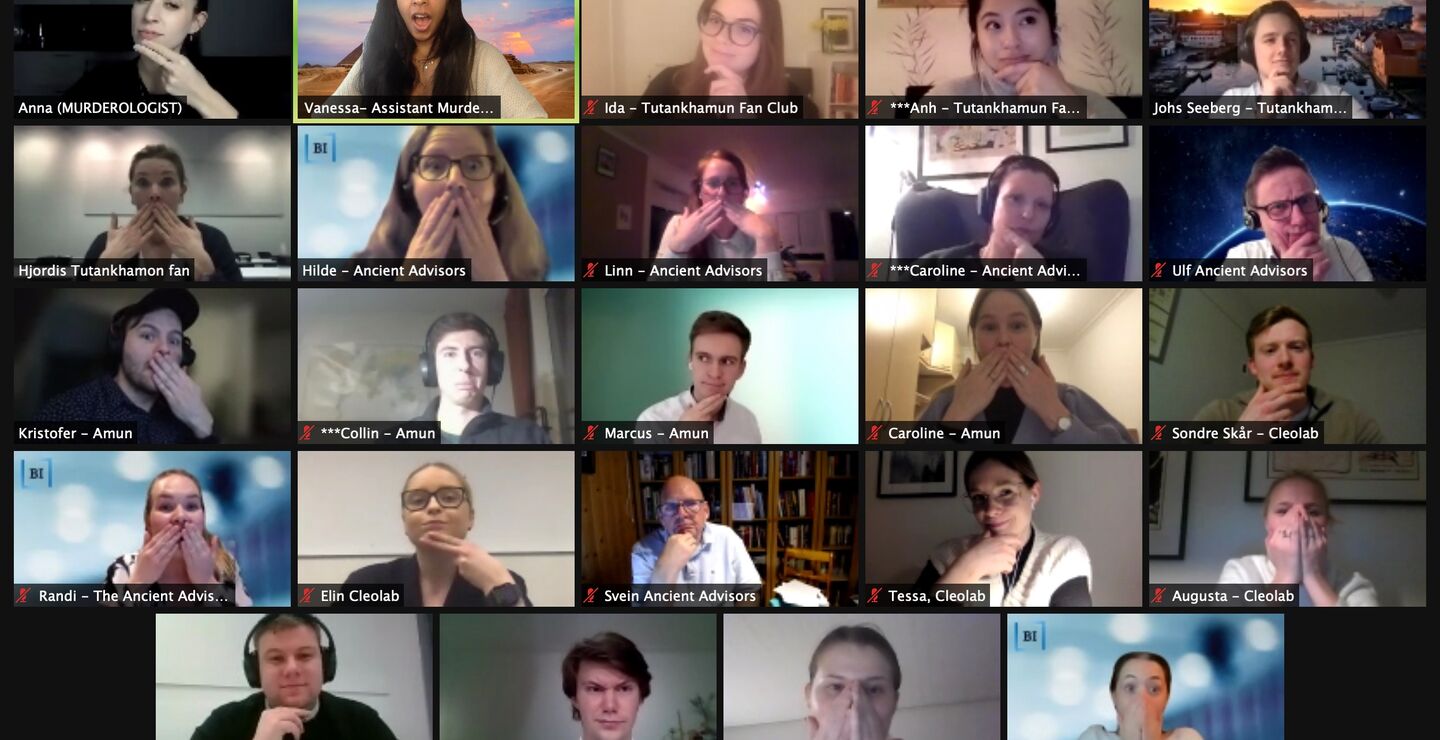 An internal case competition for BI's own students, the BI Case Challenge, was also organized during the BIICC week. Teams from BI's four campuses were given the same ISS case, but only had 24 hours to solve the case, not 30 hours like the BIICC participants. The competition was eventually won by HNSW Consulting from BI's campus in Oslo.
Scroll down for more pictures from BIICC 2021 Nordic Edition!
About BIICC – Nordic Edition 2021:
The BI International Case Competition is an annual competition and was held for the first time in February 2016.
8 teams from different Nordic countries, through four intense days in February, competed to become the champion of BIICC 2021 Nordic Edition.
Finalists - The First Case: EcoSpark Advisory from Lund University, Sweden (1st place) and Mad Men Consultants from Aarhus University, Denmark (2nd place).
Finalists - The Second Case: RICA Consulting from Copenhagen Business School, Denmark (1st place) and Fjord Consulting from NHH Norwegian School of Economics. Norway (2nd place).
Winner - BI Case Challenge: HNSW Consulting from BI Campus Oslo.
Strategic partners: Sbanken (The First Case), Gjensidige, Tine, ISS Facility Services (The Second Case).
Competing schools: Aarhus University - School of Business and Social Sciences, Copenhagen Business School, Lund University – School of Economics and Management, Reykjavik University, NHH Norwegian School of Economics, Tampere, University of Applied Sciences, University of Agder, BI Norwegian Business School