Given by the French-Norwegian Chamber of Commerce (CCFN), in partnership with BNP Paribas, the Fransk-Norsk Trophée is an annual award and the only of its kind. Previous winners include Norsk Hydro, Yara, Total, Schibsted ASA and Peugeot Norway.
"We feel deeply honoured to receive this award and consider it a welcome recognition of our long-standing commitment to support French-Norwegian cooperation. BI is a proud member and knowledge partner of the CCFN, and our collaborations through the years have been highly rewarding for BI's faculty, staff, students and alumni," says Karen Spens, President of BI Norwegian Business School.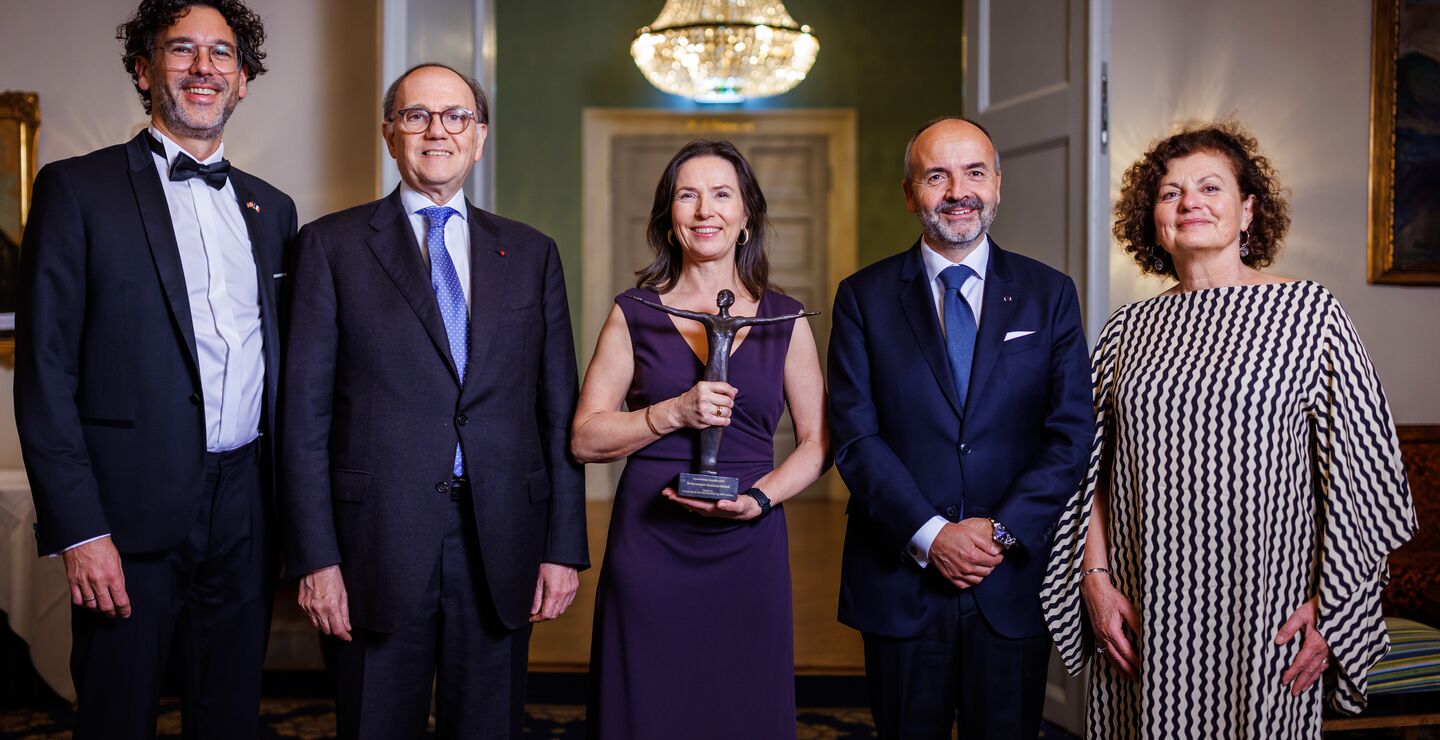 Pictured from left: Ludovic Caubet (CCFN), H.E. Pierre-Mathieu Duhamel (French ambassador to Norway), Ingunn Myrtveit (BI), H.E. Niels Engelschiøn (Norwegian ambassador to France) and Claudine Smith (CCFN and BNP Paribas Norway).
Innovative programmes and strong collaborations
The candidates for the award are judged according to the following criteria: strategy, innovation and progress, development and commitment to the community, and development of partnerships. In 2022, the jury decided to recognise a key element of French-Norwegian cooperation: Education.
"BI is a very dynamic and key institution in Norway when it comes to innovation, sustainability and entrepreneurship. The school directly contributes to the international soft power of Norway, including in France, through the quality of its programmes, the dynamism of its staff, and its large alumni network. Every year, many French students also choose to study at BI", says Ludovic Caubet, Managing Director of the French-Norwegian Chamber of Commerce.
Together, BI and the CCFN have worked on several projects, including co-hosting events for the energy sector at this year's ONS conference in Stavanger and developing tailor-made executive programmes for French companies.
One of BI's flagship programmes is the Executive Master of Management in Energy, delivered in cooperation with IFP School in Paris. In total, BI has more than 1800 alumni from France and 120 French nationals currently enrolled in the school's study programmes.
"A decisive criterion for the jury was the fact that BI has developed innovative programmes and strong collaborations with French prestigious schools including EDHEC, ESCP, ESSEC, or IFP Energies nouvelles (IFPEN)", says Caubet.
Responsible educators of tomorrow's leaders
This week, representatives from global energy companies have gathered at BI for the French-Norwegian Days conference, where this year's main topic was the blue economy and sustainable growth. The event, which has been hosted at BI since 2012, is co-organized together with the CCFN.
According to Caubet, French and Norwegian environmental and industrial goals are converging.
"We know that continuous learning will play a crucial role in the foreseeable future and BI will be a strategic partner for most of our projects. BI will have to educate managers to perform in more complex ecosystems and in new industries, such as hydrogen, offshore wind, batteries, AI, cleantech, oceantech, and so on," says Caubet.
Spens shares Caubet's ambitions and emphasises that BI will continue its role as a central learning partner and collaborator in the efforts to help companies grow, develop and strengthen the competencies needed for the green shift.
"As a business school and research institution, sustainability is right at the core of our most important mission: To be responsible educators for the leaders of tomorrow, and to equip them with the knowledge and skills to drive innovation across industries. In line with this, we will continue to help the industry accelerate the move towards a greener and more renewable energy sector," says Spens.
More info:
The Fransk-Norsk Trophée is an annual award, recognizing a company, an organisation or an individual for special contributions to the development of trade and/or industrial cooperation between the two countries.
Since 2005, the French-Norwegian Chamber of Commerce invites its members and contacts to the French-Norwegian Days conference in Oslo. For the last 10 years, the event has been hosted at BI.
This year's French-Norwegian Days is organized in cooperation with the French Embassy in Norway, the Norwegian Embassy in France, Innovation Norway, the French Maritime Cluster, the French Institute and the Research Council of Norway.
The award was handed out during a gala dinner in Oslo 12 October 2022.