Each semester, the master students at BI are invited to participate in an essay competition, to state their opinions about sustainability. What were the students challenged to write about?
A critical eye at a popular brand
Apple Inc. is one of the world's largest companies. The company claims to be contributing to the Sustainable Development Goals. At the same time, Apple has been criticized for unsustainable business practices, negative environmental impacts, and poor labor practices.
"We chose to have a closer look at Apple Inc. this semester, as it is a company we are all familiar with, and many students are loyal users of Apple's products. We asked the students to reflect on to which extent the company contributes to, or works against, sustainability", says Caroline Ditlev-Simonsen, one of the Professors responsible for the competition where the winners receive a prize of NOK 10,000, and the winner essay gets published in BI Business Review.
Apple tempts us to make bad choices
This semester's winner essay "Is Apple becoming a rotten fruit", is not depicting Apple in a favorable way.
"Apple's business model is designed to encourage consumers to buy new products all the time, and they do not have a circular economy strategy. They trick consumers like us, and without realizing it, we´ve fallen into their trap", say the five authors of the winner essay, Anita Engelstad Thorsen, Ellen Vik, Hannah Sofie Kjellevold, Isabelle Steine Bendriss, and Pernille Sæther-Larsen.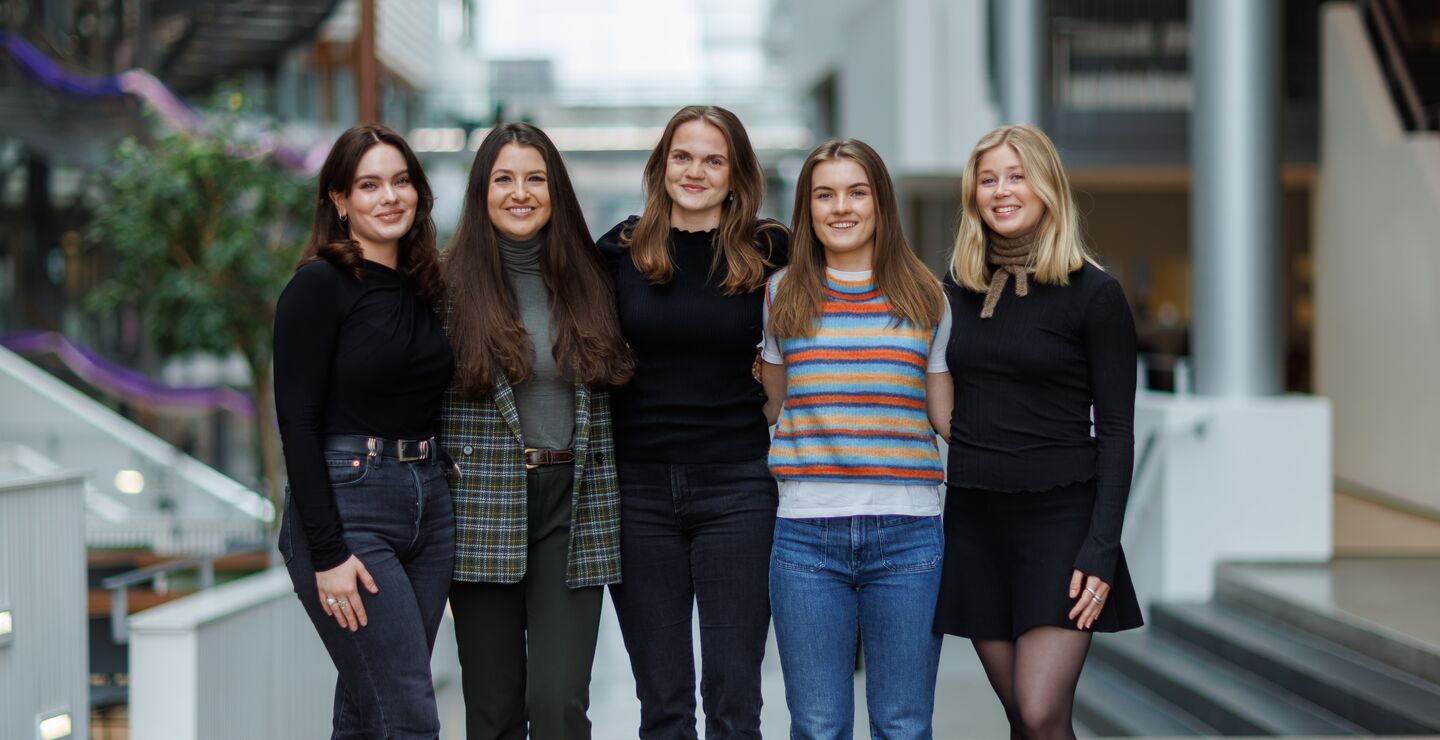 Winning team (Photo: Alexander Eriksson)

Since 2006, Apple has held several conferences each year to release new products. These events are usually highly popular and help boost the sales of brand-new Apple products. In addition to launching improved products all the time, Apple also gradually make their old products less functional, like only offering the latest updates to newer devices. This deception in Apple's strategy is discussed in the winner essay.
Opinion essays can contribute to public debate
The authors of the winning essay are all getting their masters in Sustainable Finance at BI, and agree that in order to change the big companies' sustainability strategies, we need our future leaders to step up.
"If I as an individual stop buying Apple's products, that is just a spit in the ocean. To make a difference we must enlighten more people of how companies like Apple are greenwashing their products, instead of actually minimizing their environmental impact", says one of the winner students.
The jury of BI's Opinion Essay Competition includes Andreas Friis, Founder & Executive Director of Sustainability Hub Norway (S-HUB), Knut Mostue, Director of sustainable food systems, UN Global Compact Norway, Linn Meidell Dybdahl, Communication adviser at BI, and Caroline Dale Ditlev-Simonsen, Professor of sustainability and corporate responsibility.
Read the winner essay: Is Apple becoming a rotten fruit?