International Summer Programme
Accommodation
Students may choose between two conveniently located dormitories within walking distance of BI's campus: BSN Dormitory and Bjølsen Student Village.
BSN Dormitory
BI Norwegian Business School offers housing for the majority of students at BSN Dormitory during the summer session. BSN was completed in 2011 and offers modern, comfortable housing for BI students. All rooms are furnished and have a wired internet connection. Kitchens are not fully equipped with cooking utensils, however BI International Office will provide summer students with basic pots, pans, utensils and cutlery. You can bring with you a cup and/or glass and a plate and/or bowl. These items can also be bought in Oslo.
BSN Housing Options (subject to availability)
Generally Summer Programme students will be staying in two-bedroom apartments, and either have a single bedroom but share the kitchen and bathroom, OR share a bedroom (two beds in one bedroom) and also share kitchen and bathroom.
Size
Kitchen and bathroom
Cost (NOK)
Cost* (EUR)
Cost* (USD)
Single Room
(private bedroom)
15 sq. meters
Shared by 2-3 students
8,000
820
940
Double Room
(2 students share one bedroom)
15 sq. meters
Shared by 2-3 students
5,000
510
590
* The cost in foreign currencies is an estimate based on February 2019 currency rates. Rates are subject to change.
Rental period 2019
The apartments will be available to students in late June, on the Thursday before the program starts. Please note that there will be no check-in before this day. Check-out no later than 21 July.
Applying for housing at BSN
A housing application will be sent to students shortly after admission. More information on how to apply will be sent as soon as you receive admission.
Facilities at BSN:
Washing and drying machines: NOK 14 per wash, soap/detergent included
Internet: All rooms are equipped with a 100Mbit cable-access point. BSN has a 1000Mbit (1Gbit) internet connection over a fiber-optic cable which is shared between all the apartments. One connection per room, internet cables are provided for all rooms by BI, and routers for double rooms are provided by BI.
Basic kitchenware: Knives, cutlery (knife, fork, spoon), plates, glasses, pot and frying pans are normally left by former BSN residents. If any items are missing, kitchen items can be purchased relatively cheap in Oslo.
Rooftop terrace: From BSN's roof terrace there is a great view of Oslo which includes the Oslofjord, Nesodden, Bunnefjorden, Oslo Plaza, Holmenkollen and more.
Squash hall: The squash hall is open to all residents 07:00-23:00 every day, adjacent to BSN underneath Bunnpris grocery store. Your laundry card activates the lights, NOK 1 per minute.

Bjølsen Student Village
Bjølsen Student Village is a modern student village located smack in the middle of Oslo, right next to Torshov and Sagene. From here you quickly get to Nydalen and BI, or you can stroll along the idyllic Akerselva down to Grünerløkka. If you are on the lookout for a place to live that is both pleasant and central, Bjølsen Student Village is a good choice.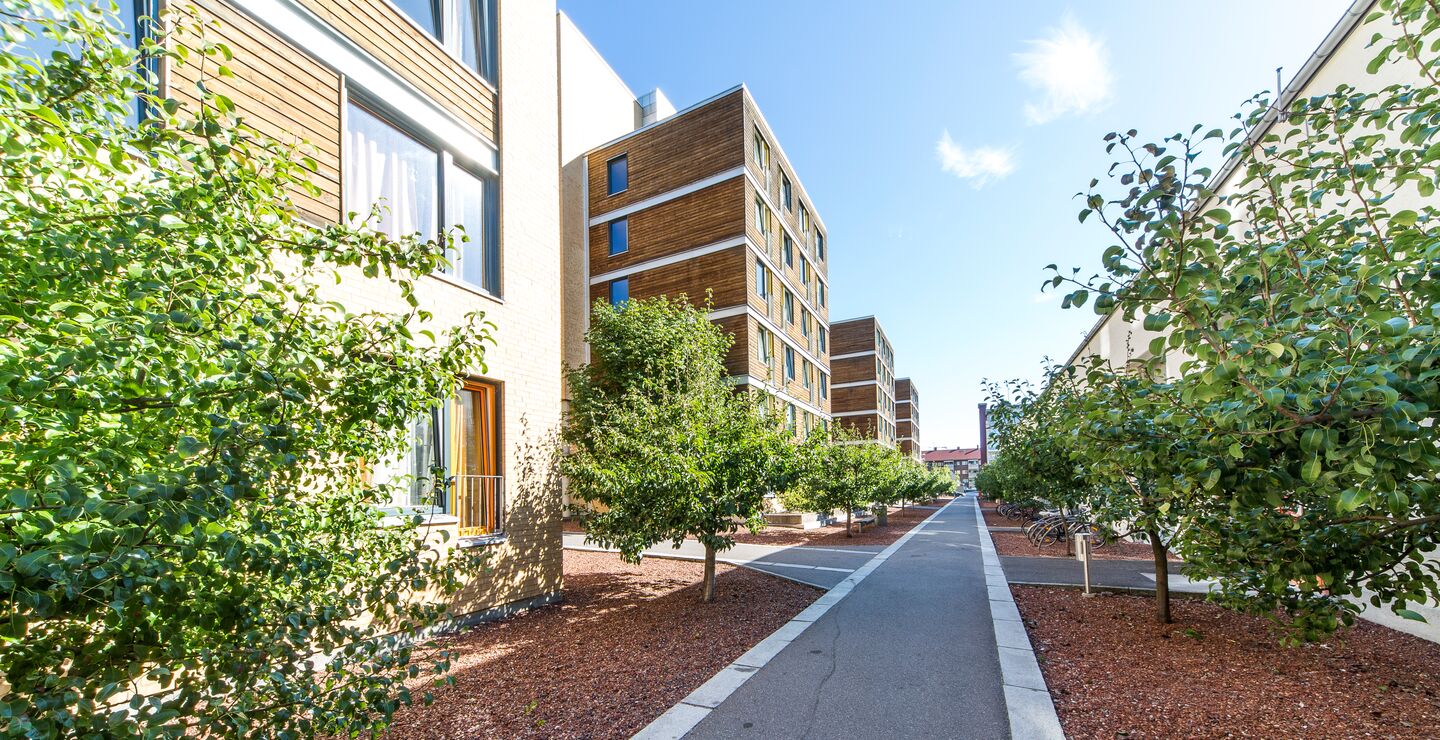 Single room with private bathroom and shared kitchen:
| | | | |
| --- | --- | --- | --- |
| For 4 weeks | NOK 7900 | EUR 800 | USD 980 |
| For 2 weeks | NOK 4800 | EUR 490 | USD 590 |