Centre for Sustainability and Energy
The SUSTAIN Project
The SUSTAIN Project has received funding from DiKu NORPART. SUSTAIN is a cooperation between BI, Jimma University in Ethiopia and Mzumbe University in Tanzania. The cooperation will continue in the period 2019-2023.
What is SUSTAIN?
BI Norwegian Business School in Oslo, the School of Business at Mzumbe University (MU) in Tanzania, and the Business and Economics College of Jimma University (JU) in Ethiopia have created a partnership called SUSTAIN. Through the partnership, the schools strive to improve the quality of education and research in the fields of supply chain management (SCM) and sustainable business development. These efforts will enable all three schools to work toward achieving the United Nations' Sustainable Development Goals (SDGs), which call for the world's institutions to work together to end poverty, protect the planet, and ensure that all people enjoy peace and prosperity.
Funded by the DiKu NORPART program, SUSTAIN promotes international understanding, intercultural competence and builds international networks for academics and students through student and faculty mobility. By the end of the project in 2023, SUSTAIN will have created an opportunity for more than 100 students to go on long- or short-term exchange. Caroline Ditlev-Simonsen, professor in sustainability and corporate responsibility, is responsible for the collaboration with Mzumbe, while Marianne Jahre, professor in supply chain management, is responsible for the partnership with Jimma.
BIs partners are important institutions in their countries. At Mzumbe, about 1,700 of the 10,000 students are in business; the school is known for its capacity in management, governance, and health management, but it needs development in the areas of entrepreneurship and supply chain management. In comparison, Jimma is Ethiopia's largest public university, known for its strength in health education. Of its 50,000 students, 6,250 are in business. In addition to exchange, SUSTAIN reviews existing and develops new teaching programs and courses at the three schools, organises conferences and seminars involving key stakeholders.


THE PRESENT UPDATE WITH SUSTAIN
Starting fall 2019, the semester was a success for the first round of exchange students from Mzumbe with Mary and Zuberi staying at BI for five months. An exchange semester is much more than courses and provides an opportunity for all involved to grasp the different cultures, communications skills and experiences. Mary states that "The exchange programme at BI Norwegian Business School in Oslo has been an incredible life changing experience for me. It has created confidence, independence and self-discovery. I have noticed myself really growing from my comfort zone and become more open to new and bigger things. I now have connections all over the world from the team of my friends who can proudly say were the finest and anyone could ever want. It is most safe to say the exchange was most a success and this very huge thank you drop to the whole Sustain Project team."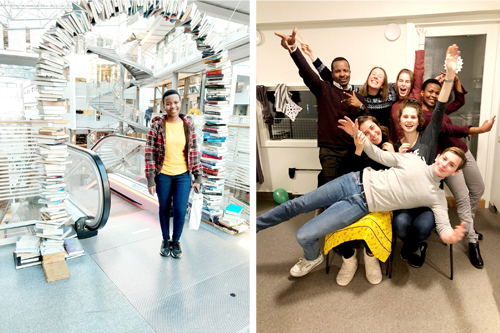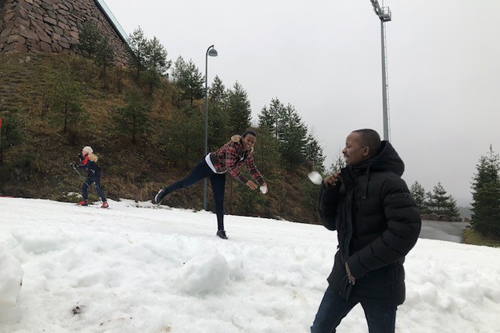 Having to jump from Tanzania to Norway, there are many differences. Luckily, for SUSTAIN students an exchange does not just end in classrooms like a regular day, they also get the chance to attend meetings and discussions that are valuable in gaining an insight for communication and development. In October, Caroline Ditlev had the privilege to host the 2019 International Conference of Business in Emerging Markets (ICBMEM) at BI together with SUSTAIN project member, Dr. Emmanuel Chao from Mzumbe. It is an annual international forum in discussing the management and research opportunities in emerging markets. This arena provided a platform for the students to discuss and interact with researchers and scholars on the strategies that
can be implemented to improve businesses and education in Emerging Markets.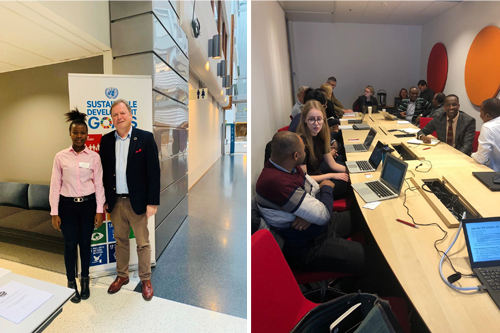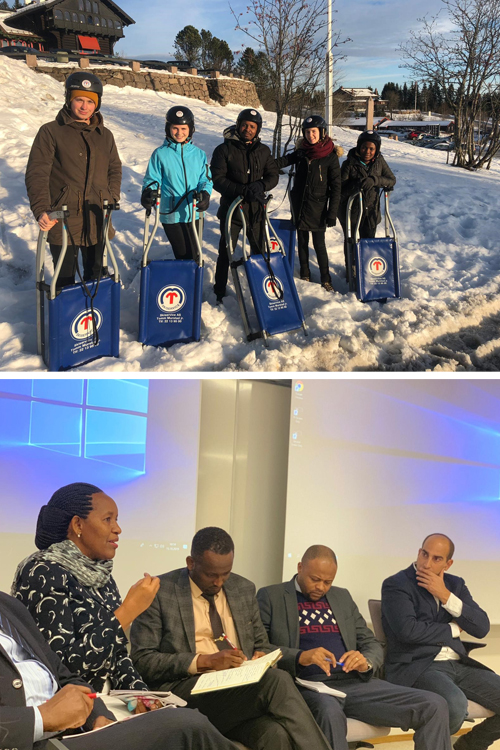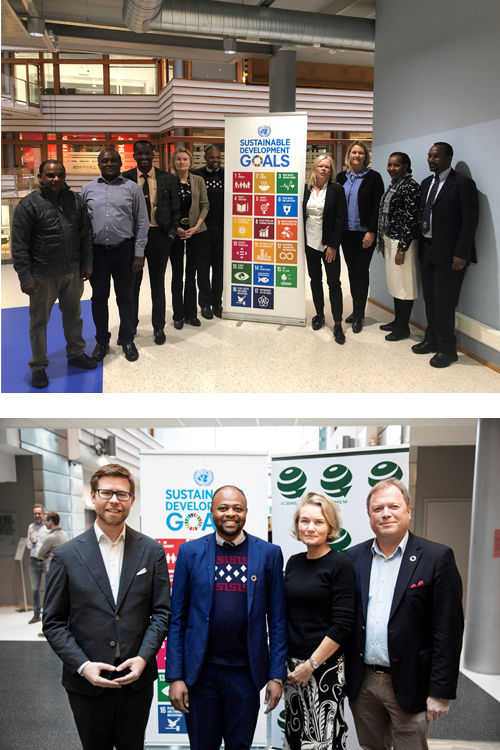 Now in 2020, we were proud to welcome six Students from Jimma University, here at Gardermoen airport, who arrived safely and have just started their courses.