Learning Center
Microsoft Lync
Lync is a communications platform that lets you work more efficiently, collaborate with colleagues through virtual meetings with voice, video, instant messaging, online meetings, and document sharing. All BI employees have Lync installed on their PC.
Application: instant messaging, phone calls and video meetings internally at BI, and with others who have Lync installed. Up to 250 people can join a Lync meeting.
Equipment needed: For a phone call you need a microphone and a speaker, and for a video call you need a microphone, a speaker and a video camera. Most of BI's computers have the necessary equipment. Such equipment can also be borrowed by the IT helpdesk.
Installation: All BI employees have access to Lync and you do not need to install the application.
Where can I find Lync?
If you have not used Lync before, you'll find it in the Start menu by typing "Lync" in the search field.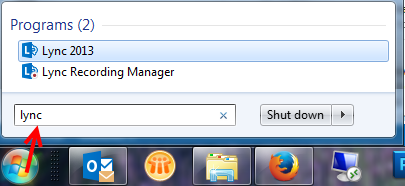 If you have opened Lync once, you will automatically be signed in the next time you start your computer (this can be changed under Tools - Options - Personal - "Automatically start Lync When I log on two Windows")
How to find and add contacts
Search for contacts in the search box, right-click the name and select "Add to Contact List"
You can also search for contacts by selecting "Add a Contact" icon.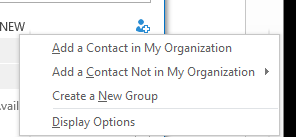 You can also create groups if you for instance wish to use one group for your department and one for a project (select "Create a New Group" and enter a name for the group). You can drag and drop your contacts to the group.
Send an Instant Message (chat function)
Double click on the person you want to chat with and the chat window will emerge.
Enter your message in the text field and press Enter.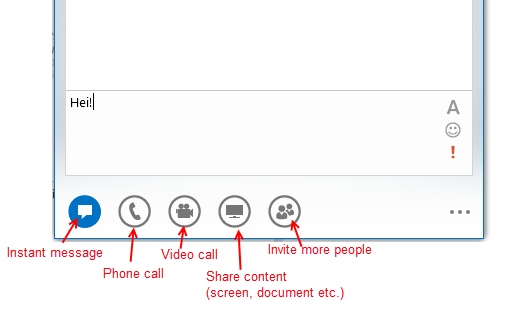 Here you can change the conversation to a phone or video call, share content (screen, Word document, image, and so on) or invite more people into the conversation.
How to call and receive phone and video call
Put the mouse pointer over the contact you want to call and select phone or video camera icon. This will automatically call the receiver.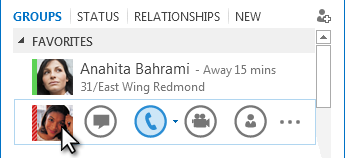 When someone calls you, a notification window will pop up on your screen. To answer a call, click anywhere on the image. If you want to ignore the call, choose "Ignore".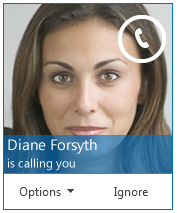 Join a Lync meeting without having Lync
It is possible to join a Lync meeting without Lync installed.
Learn more