Profile
This is how she pivoted from concrete to biotech
Trude Tingvoll grew up with her family's concrete business, and into an international executive career. Alongside a new executive position, she has just completed her Executive MBA.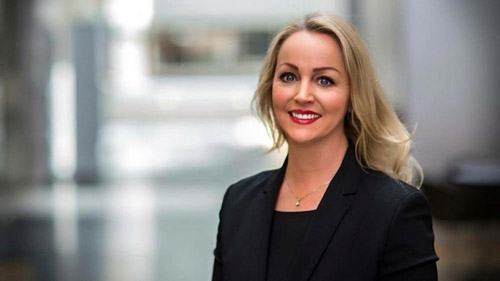 Surrounded by breath-taking Norwegian nature in Vesterålen, lies Sortland – known for it's blue buildings. This is where Trude Tingvoll grew up, close to the local family concrete business. In a small town with familiar faces around every corner and endless possibilities. From a young age, she observed and learned how her family managed the business: with tough priorities and hard work.
Still, her career did not lie in the family business at Sortland. After a few years of attending college in the capital, Trude made an international career in the pharmaceutical industry. Quickly making the move from sales to product manager before she, over a seven-year-period, worked from London and Brussels to an American drug company's office in Europe.
Although the senior manager currently resides in Norway after a long time abroad, there is definitely no rest for the eager soul. Alongside a global senior position in a biotech company she just completed an Executive MBA.
– Luckily, I thrive with high workloads in a high-paced environment. I have had an intrinsic drive for these things ever since I grew up. The world's development is moving at high speed. You have to think fresh every single day, otherwise you put yourself in a very vulnerable position, Tingvoll says.
Brand new players can be threatening
There are currently many examples of the situations Tingvoll is referring to. Technological innovations are continuously surfacing, traditional business models are under pressure. Networks services such as Google and Facebook are challenging telcos, the mobile app Uber has aggressively entered the transport market and privately-owned SpaceX is challenging the world's most powerful space nations.
The commonality in all of these examples is that a brand-new player has managed to quickly achieve a strong position in the market, with a product or service few knew existed. These newcomers have challenged the existing revenue models with their brand-new way of thinking. Still, many leaders wonder how to prepare their own company for the new possibilities the future holds.
– In order to keep up with current development you need to be proactive, curious, possess a certain drive and be attentive. You have to be willing to learn from new areas as well as other industries than your own, Tingvoll says.
EXECUTIVE MBA FACTS:
An 18-month-long program divided into six-week modules
The EMBA is regarded as the most pristine postgraduate degree for professional leaders
It offers a high variety in classes, both culturally and professionally
Application deadline: January 10, 2018
From Norway and into the world
The story of how Tingvoll has been in the same business for 20 years, starts the day she entered BI's doors for the first time. With the running of the family business being a part of her growing up she naturally attained a position on concrete-firm's board. This also sparked in her a desire for more knowledge.
The thesis she wrote as a part of her university degree discussed sales efficiency in cooperation with AstraZeneca in Norway. On completion of her degree she got a job in the company and shortly after she was headhunted by Pfizer, one of the world's largest pharmaceutical companies.
Pfizer took her to London and the establishment of a new Europe office, which was a big adjustment for her.
– My work has always been to lead interdisciplinary teams. It is as giving, as it is challenging because of the competent people working together. You enter a big network of new people with new perspectives, she says.
– After seven years in London and Brussels I made a personal values decision and asked myself: how exactly do I wish to work. I got the opportunity to return to Norway and am now in charge of global, multidisciplinary teams in a biotech company here in Oslo.
As a newly appointed executive it is clear that Tingvoll has no hesitation to embark on new and more challenging tasks, quite the contrary: she is eager to progress further and gain more knowledge. It was at this point in her career she decided to do an Executive MBA-degree at BI, whilst tackling her new title.
– I believe that learning and developing is a continuous process. But I had also been a part of the same industry all those years, and I knew how knowledge can be transferred between fields when people with different backgrounds come together, Tingvoll says.
Learning across industries
During the Executive MBA program one of her classmates was British Graeme Cooper, who had many of the same career traits as Tingvoll. Both of them have strong career developments, worked their way up, and then felt the need for postgraduate top-up.
The eighteen-month-long Executive MBA program is divided into two-week modules, conducted every four months with a separate course focusing on international leadership. The course directly target working professionals with experience and a leadership position within their company. A series of these modules is also conducted at internationally acknowledged universities. Tingvoll undertook modules at the IE Business School in Madrid, NanYang Business School in Singapore and Berkeley in Silicon Valley.
– When you study abroad, the involvement with other cultures certainly put things in perspective. It was particularly interesting comparing the Scandinavian leadership model to similar philosophies in Asia, and specifically China, which we got a lot of insight on in Singapore. It was also very educative to develop a product idea, and in turn pitch this in the innovation- and entrepreneurship module I did in Silicon Valley, Tingvoll says.
– The learning outcome directly focusing on challenges in real life is huge. We could easily link theories taught directly to challenges our workplace faced. And at the same time we provide our lecturers with new insights from the business sector.
In Tingvoll's class 13 of the 30 attendees came from different nations with various professional background. This composition of people provides varied and rich discussions, making sure the students are given the opportunity to see possibilities from new perspectives. After each semester the students evaluate the lecturers in order for them to adjust.
– I am experiencing having a completely different strategic outlook after doing my Executive MBA. You learn how to lift yourself up and solve problems faster and better, Tingvoll says.
The education adds up
Research show that the dividend from an Executive MBA weighs heavy for the students. American studies show that between 60 and 70 percent of the students receive options from a new industry. Salaries are also seen to raise significantly post-program, especially for women.
– It is also a lot about what opportunities you choose to grab, as well as being in a dynamic environment where you can actually practice what you have learned. But this degree also provides you with a network and friends, on which you cannot put a price. I am still in contact with my classmates, although we are all scattered around the world at the moment, Tingvoll says.
– The more experience you achieve, the more humble you become in relation to the industry complexity. I believe that BI's executive education has given me the tools I need as a leader in order to make better strategic judgements, as well as solving complex problems.