The program is tailored to enrich and develop participants' understanding of how effective leadership, management, and networking can transform their organizations. It draws on the multiple perspectives – innovation, leadership, design, and strategy – of an organization in arts, culture, or creativity which is engaging in future processes to explore potential change. The program equips leaders and executives with strategies and tools to effectively advance their careers and organizations.
Who is the program for?
The program is designed for professionals working in arts and culture organizations in Nordic and Baltic countries. Applicants should be in a leadership position and highly motivated to take their skills to the next level. The program is for dynamic experts who are eager to grow as leaders and are enthusiastic in embracing and living the business of culture.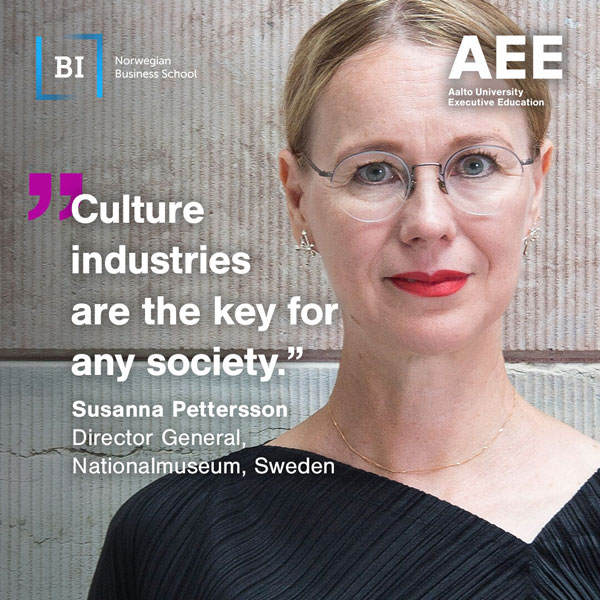 The modules
CoPassionate Leadership
Distinctive Business
Strategic Relations and Thought
Leadership
Coaching
The program venues are in Copenhagen, Helsinki, and Oslo. The program runs from October 2021 to May 2022.
Need more information? please contact:
BI Norwegian Business School
Sissel Thune Hammerstrøm
Tel. + 47 464 10 276
sissel.t.hammerstrom@bi.no
Aalto University Executive Education
Ms. Maria Karsten
Tel. +358 10 837 3730
maria.karsten@aaltoee.fi
Register for the program via the application link by May 16 or September 30, 2021, depending on your need for funding. The application form takes you to Aalto University's webpage.