Global opportunities
The University of Münster Case Competition
Ever-growing interest in Case Competitions should not surprise anyone as they provide one of the best opportunities for students to grow and reach for the stars.
BI's Experiential Learning team is working hard to provide different learning opportunities that encourage the use of analytic and solving skills, team building and boost the exchange of new ideas. One of such moments was the University of Münster Case Challenge (UMCC) in which four of BI's students participated. Here is their story.
University of Münster Case Challenge is a student-run competition that attracts 12 teams from around the world. Preparing for this competition was truly a wonderful experience for all of us. There are very few things in life that you enjoy working for and preparing for a case competition is one of those things. Team building and solving mock cases does not feel like work, it's an activity that both entertains you and trains you at the same time.
We were told that the competition will consist of one 4-hour case and one 10-hour case. So, we trained really hard to meet those timelines, and solved at least one case every week up until the competition. There are so many things that you need to consider, and you can't prepare for everything as you might face unexpected hurdles. For us, those hurdles came when one of our team members could not get his visa in time for the competition. A case team is held strong by four stable pillars, the team is clearly not optimal without that fourth pillar. However, the very essence of case competition is to solve difficult problems in tight deadlines, and this was a manifestation of it in real life. Thanks in big part to the administrative team at BI, we were able to work out the logistics. Also, a special thank you to Helle Lyng for volunteering and allowing us to fill the missing gap.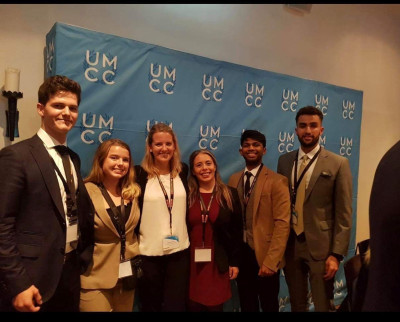 Day 1
A colour-coded icebreaker
We left Oslo on 16 October at around 06:00 and arrived in Münster at around 13:00. Once we got to our hotel, called the Factory Hotel, we were greeted by the UMCC team with goodie bags and name tags. Soon after, we finally met our lovely buddy, Johanna, whom we had been in contact within the preceding days.
Later that day, we had the official opening of the UMCC 2019 at the restaurant, A2 AM SEE, which had an amazing view of the Münstersche Aasee lake. The dinner was an initiation for the competition as well as an icebreaker for the teams. We couldn't choose where we are going to sit, we had to pick a coloured piece of paper from a bowl, that indicated the table we are sitting at. The team was dispersed into different tables, and all of us got to know the other teams a little better that evening. Later the same evening, they also drew division listing for the teams. The 12 teams were split into three divisions. We shared our division with Queensland University of Technology, Technical University of Dublin and Tampere University from Finland. Once the divisions were finalized, we could really feel the competitiveness in the atmosphere and the anticipation for the first case.
Day 2
Liba, the taste of Münster
We got our first case at 09:00 and were given 4 hours to finish it. There were two very strict rules, we were to have no contact with the outside world – as is in most case competitions – and we were could not be second late with the delivery of our solution. The case was about the expansion of Liba, a soda producer based in Münster. We were even given a couple of bottles of Liba to try while we solved the case.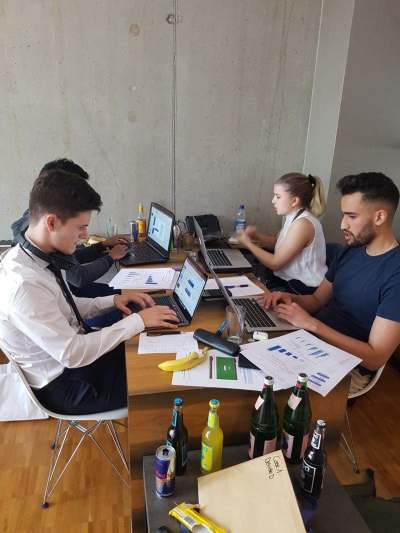 The 4 hours went by in the blink of an eye, but we had finalised our solution and were happy with the results. So followed the very stressful ride to the presentation venue. The presentation, however, went really well and our solution was well received by the judges. In addition to the 4 judges and a handful team coaches, there was also stranger in the audience during the presentation. He was later introduced to us by our buddy as the CEO of Liba. Unfortunately, he had already put into action a plan that was a bit different from ours, but regardless he was quite happy with our solution.
After the presentation we were allowed to go back to our hotel and have some time to rest, after which we had a city tour scheduled. It was a very enjoyable experience as we got to socialize with other team members and enjoy the beautiful architecture of the city. The tour ended at a German pizza restaurant, that served a variant of pizza called "flammkuchen." After dinner, the placements were announced, and we found that we placed 3rd in our division with 21 points but were only 2 points behind the 1st place.
We headed back to the hotel after that and had a small meeting with our coach, Marielle Solvang. Marielle gave us really good feedback, told us what we did right and where we should improve.
Day 3
The Big Case
Everyone had 4-5 hours of sleep and was up and ready for the 10-hour case, which was given to us at 08:00. The case was to innovate the delivery services of DHL, both in the short-term and the long-term. We had a clear action plan, everyone worked very hard and the presentation went well. But alas, we had lost our selves in suggesting too many strategies. We were not able to do real justice to any of our strategies as our focus and energy were stretched thin among the many strategies. Sadly, we were not able to make the finals. But we had the pleasure of watching the 3 finalists perform and it was very insightful. The American University of Beirut won the much deserved 1st place of the competition. We learned a lot from watching these teams and we brought back this knowledge with us.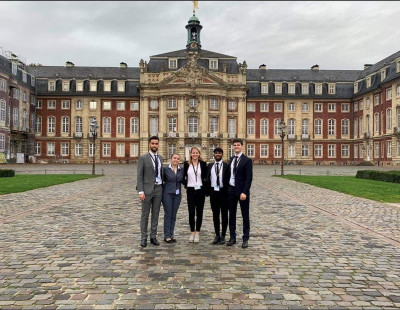 Later that evening, we had our final dinner together in Münster, followed by a big party. Everyone was in good spirits and had a lot of fun.
You always come off on top in case competition. It doesn't matter if you lose, you gain so much in the process. We got to visit a beautiful city, meet wonderful people and come back to Norway as more knowledgeable individuals.
We would like to thank BI and the case team for giving us this opportunity to compete in Münster. Also, a special thanks to Marielle for the time you've spent with our team, preparing and guiding us throughout the competition.