Good to know
Student Housing in Oslo 2019
We know that it might be hard to find accommodation in a different city being a student. Therefore, we did some research and made a practical guideline for you.
This article was written 3 April 2019, and may contain outdated information. For updated pricing information please see each housing provider's website, and read the updated article here.
As a BI student you are guaranteed with student housing if you apply before the housing deadline, 1 May. If you have not completed your application yet, we encourage you to do it as soon as possible.
The process is simple, you just need to fill out your information, state your preference and pay the administration fee. Once the allocation is made, the housing provider will contact you directly.
To give you a picture of the housing options, we prepared a small comparison table, where you can see the price range, transportation and utilities. Please note that the transportation time is based on google map and for the actual housing price please refer to each housing provider's website.

Also, you can find a map below, which has main SiO student housing options, BSN and Diakonhjemmet highlighted on it. You can see how far/close they are located to BI campus, city center and etc.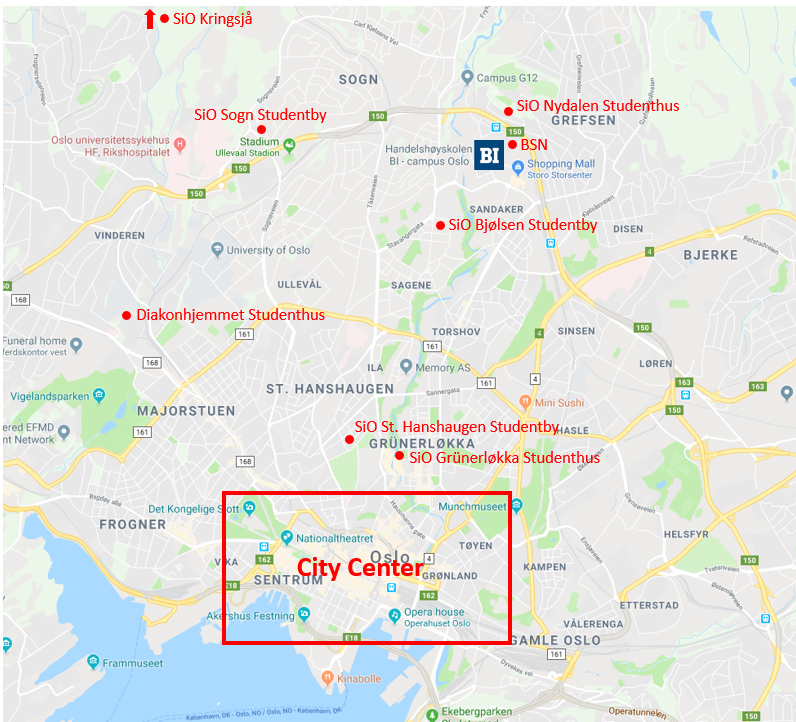 Students' experience
Student living in BSN:
"One of the main reasons why I chose BSN is its location in Nydalen, which is only a few minutes away from BI. There is a shopping mall, as well as a metro station. Many of my friends live in BSN which made it also a natural choice for me. I can also recommend their studio apartments which are quite spacious, furnished, and fairly affordable."
Student living at Bjølsen Studentby:
"I chose Bjølsen because it is located only 10 minutes by foot from school. It is a very convenient option with public transport going directly to school and the stop is right in front of the village. There are also two supermarkets within two-minute walking distance. Consequently, many BI students end up choosing Bjølsen, which makes the organization of social events also very easy."
Student living at Sogn:
"I first sublet a room in Sogn for 3 months, and then decided to stay here for 2 years. This area is a perfect combination of nature, peace and convenience (public transport, supermarket and gym center). It takes me 15 min every day to go to school, 20 min to the city center, 10 min to Sognsvann and 5 min to Domus Athletica. Rema, Kiwi and Coop are all accessible. Especially, Sogn has amazing grass field to sunbath in the summer. To me, Sogn is not only convenient or affordable but also very sweet and cosy."
Student living at Kringsjå:
"What I love the most about Kringsjå is its surrounding. It takes 5 mins to walk to the beautiful Sognsvann lake. You need to be careful in the winter with slippery roads. Other than that, my number one choice for living would definitely be Kringsjå."

If you have any further questions regarding the student housing in Oslo, please do not hesitate to contact us for more information. Just click the "Contact us" button in the bottom right corner.