My journey
From IB to BBA
How can Game of Thrones motivate you to study at BI Norwegian Business School? Jahanvi Ahuja got the answer.
Written by: Jahanvi Ahuja
I got to know about BI Norwegian Business School through Instagram. I saw this Game of Thrones themed video of a man on BI's Instagram page, he used the famous phrase "Winter is Coming" and that video was what motivated me to pursue my studies from BI Norwegian Business School, because who doesn't love Game of Thrones?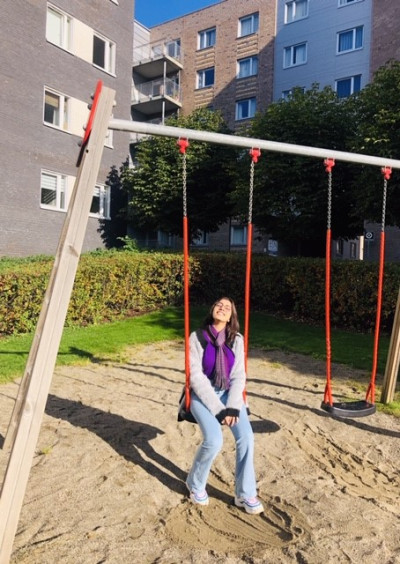 I want to become a business consultant, and I came across this course, Bachelor of Business Analytics, a lot of universities were providing this course for the master's degree, but unfortunately the same can't be said for the bachelor's degree. So, I was more than happy when I found out a university which had a perfect course that fit my future aspirations. Then I did some more research on BI, and imagine my happiness when I found out that it's a triple crown university and belongs in the top 1% Business Schools across the globe! I saw some YouTube videos of BI and its students and to say I was mesmerised by the building and especially the library is an understatment! Let's just say that it was love at first sight and that's when I decided that BI is 'the' university for me.
I've personally found the studies and subjects very useful and relevant to my career in future. Although it has been a little challenging for me to give the right amount of time to each subject and find the right balance between studying theoretical and practical subjects. Also, as a student, you need to be able to apply theories to real life situations, and that's what we are prepared for at BI.
There are tables EVERYWHERE in the building and you can always see someone or the other studying. I find it so motivating that everyone is committed to their studies, But, they know when to have fun and when to study and this is the best part of being a BI student. You're always motivated to pursue your goals, at least when you're on campus, you might get lazy as soon as you reach home.
You have to be consistent and honest to yourself when you're doing your bachelor's or master's degree, especially international students. We all come so far from home to make a great future for ourselves and BI gives us the opportunity to do the same, so don't let it go to waste and make sure that you make the best out of it.
BI provides their (especially international students, YAY!) students with so many facilities and opportunities such as career or even emotional counselling and every week there's something new happening at the campus and there's never a dull moment!
Beware though! Norway can be expensive, it is the most expensive country in the world after all, but all I can say is, its going to be worth it. I am only in my first year of the Bachelor's programme and I already know that its going to be worth coming from from home and buying expensive stuff for your survival.
So far, I've found Norwegians to be quite polite, but their need to have their personal space at all times (unless they are drunk) is important for them and I've come to respect and understand that. So if you want to be best friends with Norwegians and want them to open up to you, you got to get them drunk! Also, because BI is full of international students, you won't have a problem in making good friends. If I can find a diverse group of friends, then so can you!
And the language isn't that much of a problem unless you want to do a part-time job, because for most of the part-time jobs, it is preferable by employers if you know the commonly used Norwegian language (Bokmål). The western culture has always been different, but the Norwegian is culture is even more different, but as I've mentioned before, Norwegians are polite, so no need to get scared, but prepare yourself to get shocked in an amusing way!