Global opportunities
NHH International Case Competition
Meet Team Lefta Consulting, the team that represented BI in the 2019 NHH International Case Competition.
The post is written by Andreas Askim Vatne and Orpheas Lillikas on behalf of team Lefta Consulting, the team that represented BI in 2019 NHH International Case Competition. The other two members of Lefta Consulting are Helle Lyng Svendsen and Nicholas Sundet. All four members are 3rd year Bachelor students at BI.
A week to remember
This was supposed to be an academic trip, but ended up being so much more than that. From the day we arrived Bergen to the day we left, we made sure to exploit every minute we were there. We spent the first two days socializing and getting to know members from other teams. On Monday we visited the Vilvite museum, and went on a beautiful but cold fjord cruise followed by a hike up to Mount Fløyen on Tuesday morning. In evening, the Case competition officially started with a reception at the historical Hanseatic museum at Bryggen. This evening we also had to buy what we needed from the supermarket for the 24-hour case solving the next day. Ginger shots and chocolate was clearly what we had decided on as our winning recipe for success. The week then progressed with case solving and presentations which we will get back to later on in this story, but let's speed up to Friday and the closing banquet. At this point we were all tired, but nonetheless prepared to end the week at its peak. We had a lovely banquet dinner at the hotel, and ended the evening by going out, students and advisors alike. It felt good to let go of all the stress that one endures when solving cases, and just enjoy the moment and party with our new friends from around the world.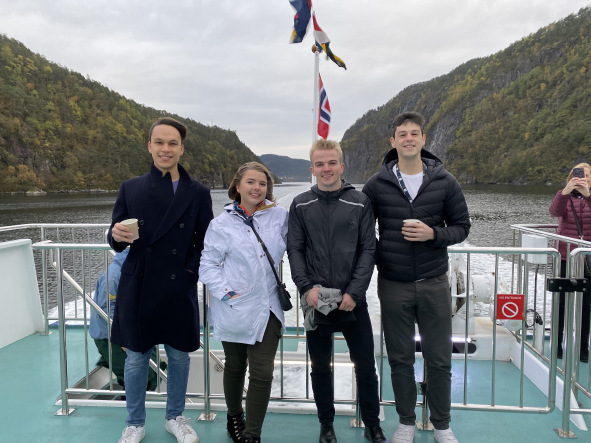 New friendships
Despite the main focus of the trip being so serious and stressful, everyone at the competition was outgoing, friendly, and delightful to spend time with. It would be a mistake to underestimate how much of a privilege it was to meet people from all corners of the globe, each carrying interesting stories and insights. We found ourselves regularly spending time with the teams from Romania and Glasgow to an extent that we keep in contact over text to date! It would be a crime to underestimate how easy it was to socialize with everyone; we regularly went out for lunch and dinner in big groups. We went to the competition expecting people to stay within the groups they formed from their home universities, but left having spent just as much time with other teams than we did with our own. It's safe to say we all made connections that will last for many years to come.
Case solving
One word comes to mind when thinking back to the 24-hour case solving competition: exhausting. The initial excitement we had when Coop was announced to be the case company was not short lived; we brainstormed for hours trying to come up with the most creative and bulletproof 10-year strategy for Coop. To be able to create solutions for a company that we had such strong physical contact with in daily life was new and challenging to us. After all, a supermarket is a supermarket, how does one revolutionize an industry so static? After hours of deliberation, we started solidifying our strategy that comprised of suggestions powered by extensive data collection, as well as the launch of a new automated convenience store that would join the Coop family, Coop Lett. With 3 hours of sleep and 21 hours of hard work weighing on us, we put on a great presentation, impressing not only our judges, but also the team advisors spectating in the room.
Being grateful
This trip didn't only allow us to get to know students from other universities around the world, but also gave us a wonderful time getting to know our kind and dedicated advisor Hilde Spæren, as she guided us through the week and laid the foundation for us to do our best. Adding to this, we wish to recognize the efforts of the NHHICC committee for organizing a great week for everyone in Bergen, but also the effort of BI Case faculty members who work year-round so that students such as ourselves can experience and learn from moments like this. On that note, we wish to close by saying thank you and good luck to all teams in the future representing BI at case competitions around the world!