My journey
From Romania, via Germany, to Norway
Calin has been studying in Oslo before, and felt so much at home that he decided to come back.
Name: Calin Alexandru Teodorescu
Degree programme: MSc Finance
Undergraduate degree: BA Political Science
Undergraduate university: University of Mannheim, Germany
Hometown: Bucharest, Romania
I first found out about BI Norwegian Business School during the exchange semester of my bachelors. As part of my BA in Political Science, I spent a semester on exchange at the University of Oslo. It's quite hard to put into words, but the best way of describing it would be, that I have never felt so much at home before. Thus, I decided to come back.
Around the same time, I decided I was going to pursue an MSc in Finance during my graduate studies. Since I was focused on coming back to Oslo and studying finance, a Triple Crown Accredited school such as BI was the obvious choice.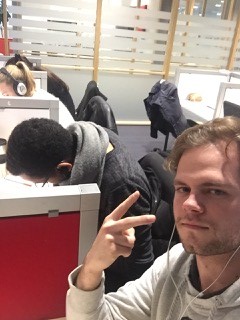 Academic Experience
The MSc in Finance at BI Norwegian Business Schools is heavily focused on group assignments, in which you will get the chance to apply the theoretical knowledge gained in lectures. It is important that you find a group to work with, where you all trust each other.
I have been challenged every week by the new topics from lectures and projects assigned to us. Your bachelors are supposed to give you a basis of knowledge, but your masters are where you're being thought to think for yourself. If you don't have an academic background in business, well then fasten your seatbelt because you're in for a ride.
International Experience
One of the best experiences I have had so far was the ¨Buddy Week¨. It was my first week as a student at BI, a week full of fun events and a perfect opportunity to meet my fellow classmates and the school before the program began.
Another pleasant experience was the scholarship ceremony. It felt very good to have my previous accomplishments and hard work acknowledged.
If I were to recommend one thing that you must do during your stay in Norway, it would be going for hikes deep into the mountains. You will get to experience nature in a way which only a few other places can offer. Being stranded in a cabin with no cellphone reception or internet and some good friends is amazing.
Reflections
Being an MSc student has been quite challenging so far. For now, I have learned that you can always push yourself to be better but it's impossible to succeed without keeping a healthy balance. Keep that in mind, for when you're going to start your master studies.
My career goal
My career goal is as of yet unknown. During my time at BI I hope to be able to benefit from the school's wide network and through it find a career worth dedicating myself to.