Stand out, Go North
Oslo Coffee Culture
People from all parts of the world celebrate the drink that brings energy, focus, and warmth – coffee.
Norwegians are no exception when it comes to their love for coffee and as a result, Norway has established a strong coffee culture. Whether you are grabbing a cup to recharge during an afternoon shopping trip or pouring yourself a cup to push through a late-night session, there are plenty of places to get your caffeine fix both on and off campus.
Coffee on campus
Chaqwa is located on the first floor of BI, Chaqwa is your go-to coffee spot if you are looking for a wide range of drinks at a reasonable price. At most coffee shops they ask you your name, but at Chaqwa they know your name and order if you go often enough. A small cup of daily roasted coffee costs as little as 12 NOK and you can save even more if you bring your own cup. This is naturally a popular place for BI students, but if you don't feel like waiting in line, you can order and pay on your phone and pick up your order when it's ready. They also offer a loyalty program where every tenth cup is free!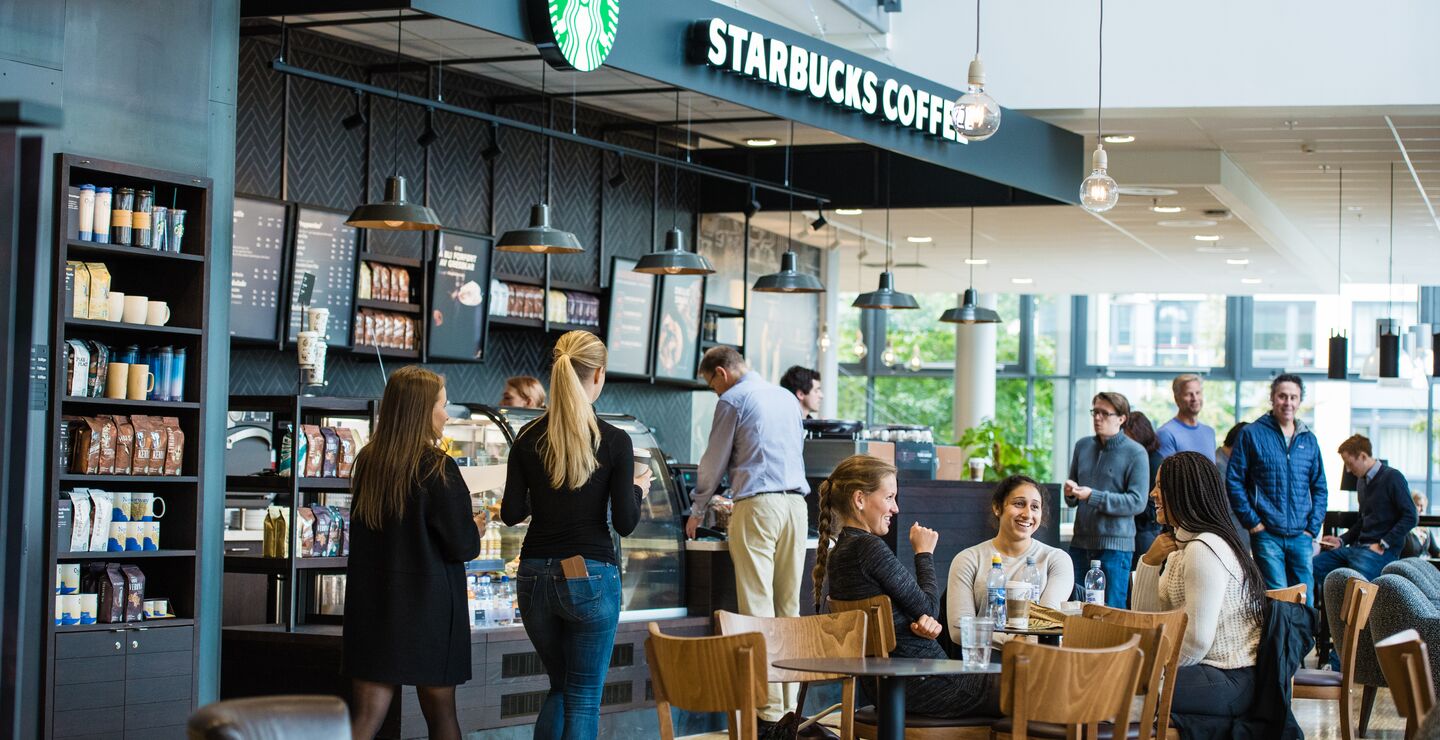 Starbucks is also a popular choice for BI students. While there are not many Starbucks in Oslo, BI is lucky enough to have one on campus. Offering season drinks and quality lattes, this is the place to be if you are looking for a quiet break from the hustle and bustle of BI. Located near the entrance, Starbucks' location is easily accessible and near more discrete study spots.
Amigo is a shop that offers more than just coffee. At Amigo you will also find a variety of salty snacks, sweet treats and even lunch options. Amigo is also a great stop if you are looking for something like an energy drink, water or juice. Coffee options here are a bit more limited and informal given the various other options they have. After you use the machine to order your coffee, don't forget to show your "kaffe kort" so that you get your fifth drink for free!
Vending machines are great if you are looking for something quick, cheap and hassle-free, there are plenty of Chaqwa vending machine on campus where you can order anything from an americano to a chocolate milk. Coffee here is served in one small cup and all selections only cost 10 NOK. Located near classrooms and the library, this is the place to stop if you need something on the go!
Coffee Hour is hosted every Thursday from 11-12, Kroa, the student owned bar. They offer free coffee and chocolate to BI students. Don't forget to swing by to socialize and grab your free drink!
coffee off campus
Espresso House is a coffee chain located around Oslo. They are usually quite busy, but they have large tables that are great for studying. They also offer food at a reasonable price if you plan to stay for an all-day study session.
Kaffebrenneriet is also a coffee chain with many locations around the city. While the coffee here will be more expensive than what you find on campus, it still makes a great stop for a weekend study session or to catch up with friends.
Hendrix Ibsen is located in the east Oslo neighbourhood called Grünerløkka. Known for its restaurants and eccentric shopping scene, Grünerløkka is a great neighbourhood to grab a cup of coffee with friends. If you are looking for a great place to study, Hendrix Ibsen offers 15 NOK coffee for students. It is also located near the famous food hall called Mathallen if you are looking for a place to grab a quick bite to eat.
Mocca Oslo is located in the affluent neighbourhood of Majorstuen in west Oslo. Located near shops and parks, Mocca is your go-to spot if you are looking for sweet pastries or savoury brunch options. This is also a great place to recharge in between sight-seeing!
Tim Wendelboe is a boutique coffee shop and micro-roastery renowned for its handcrafted and unique selections. While this might not be the best study spot due to its small tables and crowds, it is a must for those who live in Oslo. Based in Grünerløkka, Tim's offers a coffee subscription, cuppings and roasting workshops.
Fuglen is located in the city center near the Castle, the National Gallery and the Kulturhistorisk Museum. If you are walking around the city, this is a great place to stop in for a hand-crafted coffee or even a glass of wine. Open late and offering free WiFi, Fuglen also doubles as a great study spot.