Stand out, Go North
Top 3 Hikes in Norway
Deep fjords, eternal mountains, sudden cliffs, huge trees, colorful autumns — you name it, you got it. Here's three must-do hikes in Norway.
When thinking about The Great Outdoors, Norway comes up fast. It is easy to be awestruck by nature here. The idea that postcard-like landscapes are at your beck and call was definitely alluring for us (one might even say that they helped cement our decisions to come).
Going hiking can easily become the default weekend activity — when the weather allows it, of course. Just be sure to wear appropriate footwear, pack water and some snacks, and at least one extra layer for when you cool off. We'd also suggest using the app Outtt. It is fairly intuitive, has lots of pictures and trail descriptions/ elevation/ difficulty levels for you to pick and plan your next hike. Its biggest allure is that it has all the trails mapped out, and you can download and use it offline.
To help you get started on hiking, we want to tell you about three, in our opinion, must-do hikes in Norway.
Vettakollen, OSLO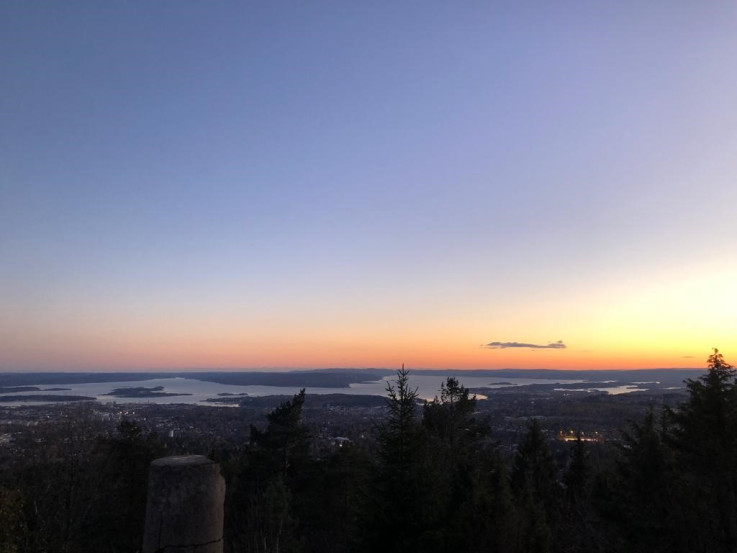 Even in Oslo, lush forest trails and hidden lakes are just a stone's throw away in all directions. One must-see hiking destination is Vettakollen where you have an awesome view of Oslo and the Fjord. There are many different ways to get up the peak located between Holmenkollen and Sognsvann in the North of Oslo.
The shortest one is to take the westbound T-bane line 1 (Frognerseteren) to the Vettakollen stop (20 min from downtown). From here you take a wide, rocky path directly up to the amazing viewpoint, which is especially beautiful during sunset.
If you are in for a longer hike, you can start at Sognsvann on the end of the T-bane line 5 (Sognsvann). From there you have a variety of trails leading to Vettakollen, depending on what you want to see and how long you want to hike for. A nice trip is hiking up to the Ullevålseter Sportsstue Café to have a coffee and some fresh waffles and then go back down to end the day at Vettakollen. This hike is about 10 km, has little elevation and will take you by a variety of beautiful lakes. Depending on what you like, you can choose between graveled roads or forest trails, as long as you follow the trail of trees marked with blue paint.
During summer there are large raspberry and blueberries bushes everywhere along the path, so make sure to bring a container. And because one of our favorite things is to see the sunset from up here, we always bring some extra layers as it can get chilly once the sun goes down.
ULRIKEN, Bergen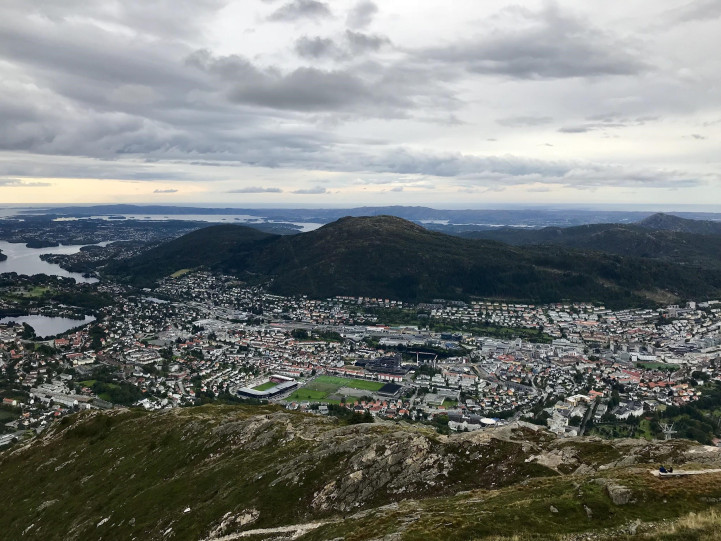 With one-hour flight you can reach the second largest city of Norway: Bergen. The city is located close to the coast and connected with fjords to the North Sea. Bergen is surrounded by seven mountains and therefore well-known as the 'city of seven mountains'. It is the perfect place for an adventurous weekend trip from Oslo.
We travelled to Bergen during the beginning of September and stayed for two nights. As you can imagine, we didn't find time to explore all seven mountains, so we had to choose our favorite. We choose the highest and best recommended mountain: Ulriken. You might have seen the beautiful landscape of Ulriken before. The Norwegian record producer and DJ Alan Walker featured this mountain in the music video of the song 'Alone'.
The hike starts at about 180 meters above sea-level and takes you up to 643 meters at the peak. You have several options to reach the top of Ulriken: hiking or taking the cable car. The more adventurous and cheaper option is definitely hiking. We started our hike at the Bergen Hostel Montana, which can be reached by a public bus from the city center. After following a gravel road over the hill, we could choose between two trail options. One of the options is a little bit more challenging and we chose this one. As a reward for our effort, we could enjoy beautiful views of the city and fjord almost the entire trip up.
The trail had a few steep areas and large rocks to hike over, but it is not too challenging and doesn't require advanced prior hiking experiences. Once we were at the peak, we could enjoy the view and explore the landscape. After another 30-minute walk, we could see the lake 'Skomakarvatnet' from above and could watch sheeps pull through the hilly area. We had sunshine throughout the entire hike up. Only on the way back down we got surprised by some rain and chose the easier trail option. This trail consists mainly of large stairs from stones and has less panoramic views than the more challenging option.
The entire hike (out-and-back) takes around 3-4 hours, depending on the pace and time you spend at the peak. It is recommended to do this hike between March and mid-September. It is probably possible to explore Ulriken during late autumn and winter as well, but depending on the weather, the conditions can be more challenging.
Bergen is also known for its rain. With about 240 days of rain per year, the city is one of the rainiest cities on Earth. So be prepared to get wet and don't forget to bring a raincoat and appropriate shoes.
Trolltunga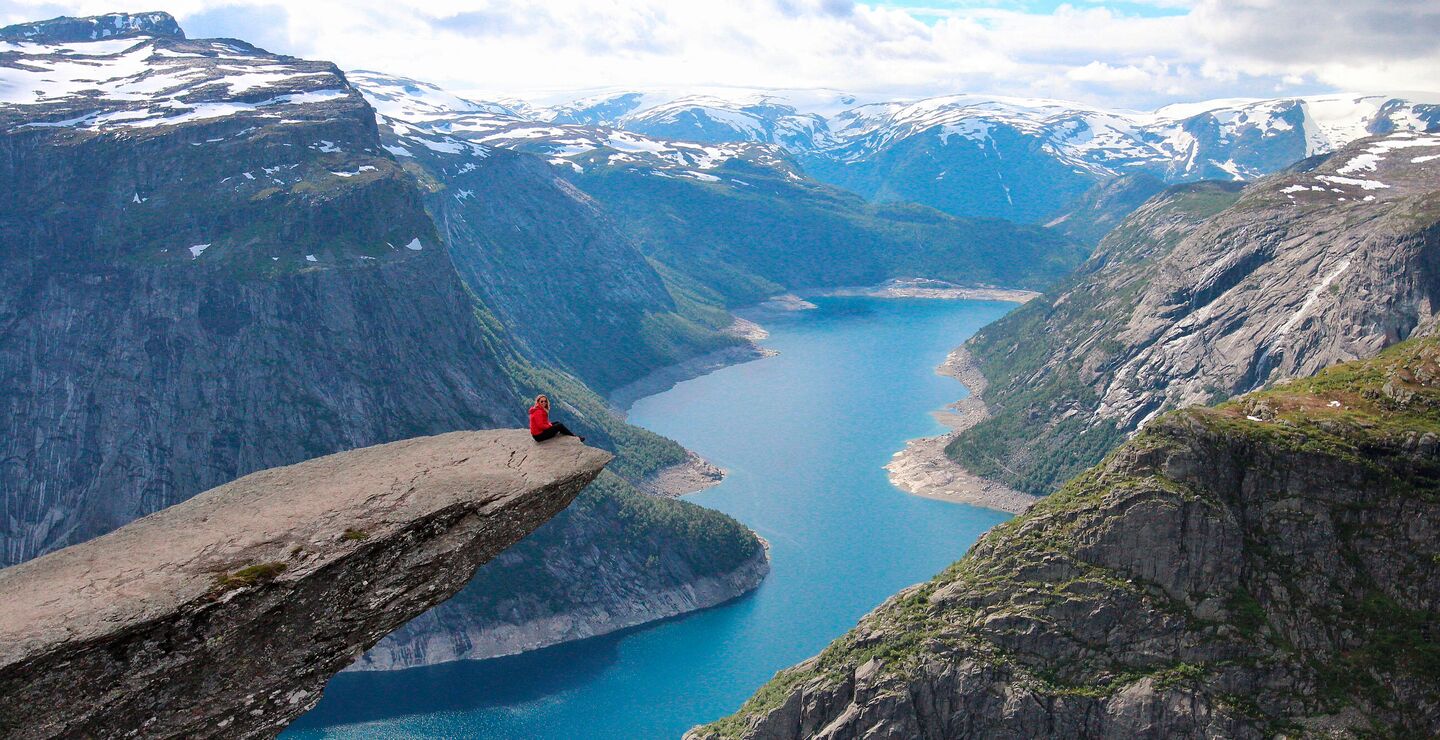 At the moment, we are planning out a hike to Trolltunga (meaning, Troll's Tongue), but because of the season we're going to have to wait until summer comes back around to give it a go. If you have looked up hiking in Norway, you probably saw pictures of people standing at Trolltunga, one of the most spectacular cliffs in Norway.
For this hike, as it is in the west of Norway, we're going to go to Odda. You can choose from Odda and Tyssedal, as both towns are well connected to the hike starting point and are easily accessible by public transport or car from Oslo (6-7 hours) and Bergen (3 hours). From there you can take a shuttle to the beginning of the trail, in Skjeggedal.
During the summer, it is advisable for you to take some time and use the direct bus connection to also visit Preikestolen (Pulpit Rock). This is a spectacular 25 x 25 plateau that rises 604 meters above the Lysefjord and almost looks like it has been carved out with a knife.
The hike to Trolltunga, with 22 km length, an estimated 10-12 hours and 1,100 m elevation, is one of the longest and most challenging hikes. As the hike is long and fairly strenuous, many people pack up their tents and make it a camping trip. Now, don't get discouraged, even if it is not a walk in the park, with some planning and preparation, nobody has to miss out on the spectacular view and the feeling of accomplishment once you have made it to the top.
Overall, even if you do not consider yourself a "hiker" per se, we highly advise you go out and hit the trails here in Norway. Make sure you always have water, a map to follow, some snacks, and extra layers.
Preparation will take you a long way — hopefully all the way to breathtaking sceneries!