Research
Department of Strategy and Entrepreneurship
The Department of Strategy and Entrepreneurship is a leading innovative institution that develops and disseminates expertise in corporate business models, development and growth.
BI Norwegian Business School's scientific publications are registered in the national database Cristin. (Current Research Information System In Norway).

Publications from Departmenet of Strategy 2011-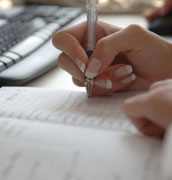 (The publications are continuously updated in Cristin).
Publications
Temporality and the first foreign direct investment

Structuring the Start-up: How Coordination Emerges in Start-ups through Learning Sequencing

How Does a Partner's Acquisition Affect the Value of the Firm's Alliance with That Partner?

The mediating role of cash slack in the related variety and sales growth relationship: Evidence from Norway

Institutions and inward foreign direct investment in the primary sectors

Understanding Communities of Practice: Taking Stock and Moving Forward

Unintended signals: Why companies with a history of offshoring have to pay wage penalties for new hires

Understanding the Firm in the Informal Economy: A Research Agenda

Global Value Chain Governance in the MNE: A Dynamic Hierarchy Perspective

Diversified Farming Systems: Impacts and Adaptive Responses to the COVID-19 Pandemic in the United States, Norway and China

Do Environmental Policies Affect MNEs' Foreign Subsidiary Investments? An Empirical Investigation

Coordinating Activity Interdependencies in the Contemporary Economy: The Principle of Distributed Control

The future of global strategy

Deliberate simple rule creation and use: activities and challenges

Environmental entrepreneurship and inclusive growth: a three-fold approach to analysis

International Journal of Technological Learning, Innovation and Development (IJTLID), 14(1-2), p. 153-191.

Doi:

10.1504/IJTLID.2022.121479

"Burning the bridges": escalation in the pursuit of authenticity

Between a rock and a hard place: The consequences of complex headquarters configurations for subsidiary R&D activities

Challenges of Performance Measurement in Lean Construction and the Last Planner System®: A Norwegian Case

Lean Construction Journal, 40, p. 24-40.

Online communities on competing platforms: Evidence from game wikis

Resource interaction: Key concepts, relations and representations

What merits greater scholarly attention in international business?

When are global decisions strategic?

Choosing misaligned governance modes when offshoring business functions: A prospect theory perspective

Pulling Together While Falling Apart: A Relational View on Integration in Serial Acquirers

Organizational identity work in MNE subsidiaries: Managing dual embeddedness

The role of MNE subsidiaries in the practice of global business models in transforming economies

Into the unknown: The extent and boldness of firms' international footprint

Klimatilpasning av vårt bygde miljø og utfordringer ved dagens kost-nytteanalyser

Sales growth or employment growth? Exporting conundrum for new ventures

Foreign operation mode flexibility: tradeoffs and managerial responses

Not in transition: Inter-infrastructural governance and the politics of repair in the Norwegian oil and gas offshore industry

Emergent Learning During Crisis: A case study of the Arctic Circle border crossing at Storskog in Norway

Sustained Reduction of Tinnitus Several Years after Sequential Cochlear Implantation

Gain initial endorsement from the core: market entry, initial partners, and embeddedness in the venture capital market

Making Managers in Latin America: The Emergence of Executive Education in Central America, Peru, and Colombia

Business schools and the roles of the executives' wives

A Routine Dynamics Lens on the Stability-Change Dilemma in Project-Based Organizations

Responding to COVID-19: Insights from African firms

Opening the black box of international strategy formation: How Harvard Business School became a multinational enterprise

Institutional distance and MNE-subsidiary initiative collaboration: The role of dual embeddedness

Understanding the governance of urban water services from an institutional logics perspective

Willingness to Pay for Crowdfunding Local Agricultural Climate Solutions

Resource bundles and value creation: An analytical framework

Exploring the triggering process of a cancer care reform in three Scandinavian countries

International Journal of Health Planning and Management, 36(6), p. 2231-2247.

Doi:

10.1002/hpm.3278

Governmental goals and the international strategies of state-owned multinational enterprises: A conceptual discussion

Benchmarking of Singapore maritime cluster: the role of cluster facilitators

The emergence of lean construction in the Norwegian AEC industry

Are governance mode and foreign location choices independent?

How Business Models Evolve in Weak Institutional Environments: The Case of Jumia, the Amazon.Com of Africa

Attentional engagement as practice: A study of the attentional infrastructure of healthcare chief executive officers

Unpacking the U-shaped relationship between related variety and firm sales: Evidence from Japan

Digital affordances: how entrepreneurs access support in online communities during the COVID-19 pandemic

The long-term energy transition: Drivers, outcomes, and the role of the multinational enterprise

Sales to centre stage! Determinants of the division in strategic sales decisions within the MNE

Hvordan få kraft i bærekraft?

Magma - Tidsskrift for økonomi og ledelse, nr 5, p. 104-110.

Digital Transformation: meet or evade the Challenge? A Case Study in the Maritime Industry

Academy of Management Proceedings.

Multinational enterprise organizational structures and subsidiary role and capability development: The moderating role of establishment mode

Mind the gap(s)! Ressursmegling for å kutte det norske matsvinnet

Magma - Tidsskrift for økonomi og ledelse, 25(5), p. 95-103.

Global drivers of cryptocurrency infrastructure adoption

Innovation governance in the forest sector: Reviewing concepts, trends and gaps

Changes in political affinity and firms' subsidiary investments

Academy of Management Proceedings.

Cash flow sensitivities and bank-finance shocks in non-listed firms

Subsidiary country managers and subsidiary development: Upper echelons and resource-based perspectives

Lost in Translation? Multiple Discursive Strategies and the Interpretation of Sustainability in the Norwegian Salmon Farming Industry

Here we go again : a case study on re-entering a foreign market

Firm-specific advantages: a comprehensive review with a focus on emerging markets

THE EVOLUTION PROCESS OF ENTREPRENEURSHIP STUDIES IN THE 21ST CENTURY: RESEARCH INSIGHTS FROM TOP BUSINESS AND ECONOMICS JOURNALS

"Thick or thin"? Policy and the different conceptualisations of business interaction patterns

Medicine and interest politics a study of decision-making processes in the area of vascular surgery in Norway

Back to basics: Behavioral theory and internationalization

Making managers: a fresh look

Global knowledge sourcing in thick and diversified RIS: case studies in Oslo, Malmø and Beijing.

Strategy implementation: Taking stock and moving forward

The organizational climate for psychological safety: Associations with SMEs' innovation capabilities and innovation performance

Keeping up with the neighbors: The role of cluster identity in internationalization

Creating the new executive: postwar executive education and socialization into the managerial elite

Resilience and related variety : the role of family firms in an ocean-related Norwegian region

Resource Interaction and Resource Integration: Similarities, Differences, Reflections

Coassessment framework to identify person-centred unmet needs in stroke rehabilitation: a case report in Norway

Searching locally and globally: Applying Daniel Levinthal's scholarship to international business

Networked health care: Rethinking value creation in learning health care systems

Dynamic capability development in multinational enterprises: Reconciling routine reconfiguration between the headquarters and subsidiaries
Show more publications