Study at BI
Campus Bergen
Our campus in Bergen is located in new and modern premises. Here you will meet committed lecturers and an engaging student community.
More and more students are choosing to study abroad. Many of them start by exploring countries and cities. But with over 15,000 business schools in the world, how do you choose?
Let us give you some reasons to choose BI in Bergen, the charming city on the west coast of Norway!
First of all, of those 15,000 business schools, only 74 have been honoured as a Triple Crown School. BI is one of them! What that means for you as an international student, is that you'll receive an education that is well respected internationally. BI has one of Europe's most productive academic environments in marketing, management and economics. At campus Bergen we now offer a master's degree in Business with a specialisation in Leadership and Change. Campus Bergen has modern facilities and is centrally located right next to the water. It even has its own beach! Bergen is well known for being a great student city, and it has an innovative job market that works closely with BI. Let's show off Bergen:
A city with endless opportunities to explore nature
We know Norway might not be the obvious choice for everyone. Perhaps you've heard that it's a bit cold and dark here. Well, that's certainly true during some parts of the year. But we feel lucky to have changing seasons, because it's really beautiful to experience how nature and people adapt to the changing climate throughout the year. For example, Bergen has quite a lot of rain because of the surrounding mountains. But people tend to appreciate it, because it gives them constant fresh air and a lush, green city.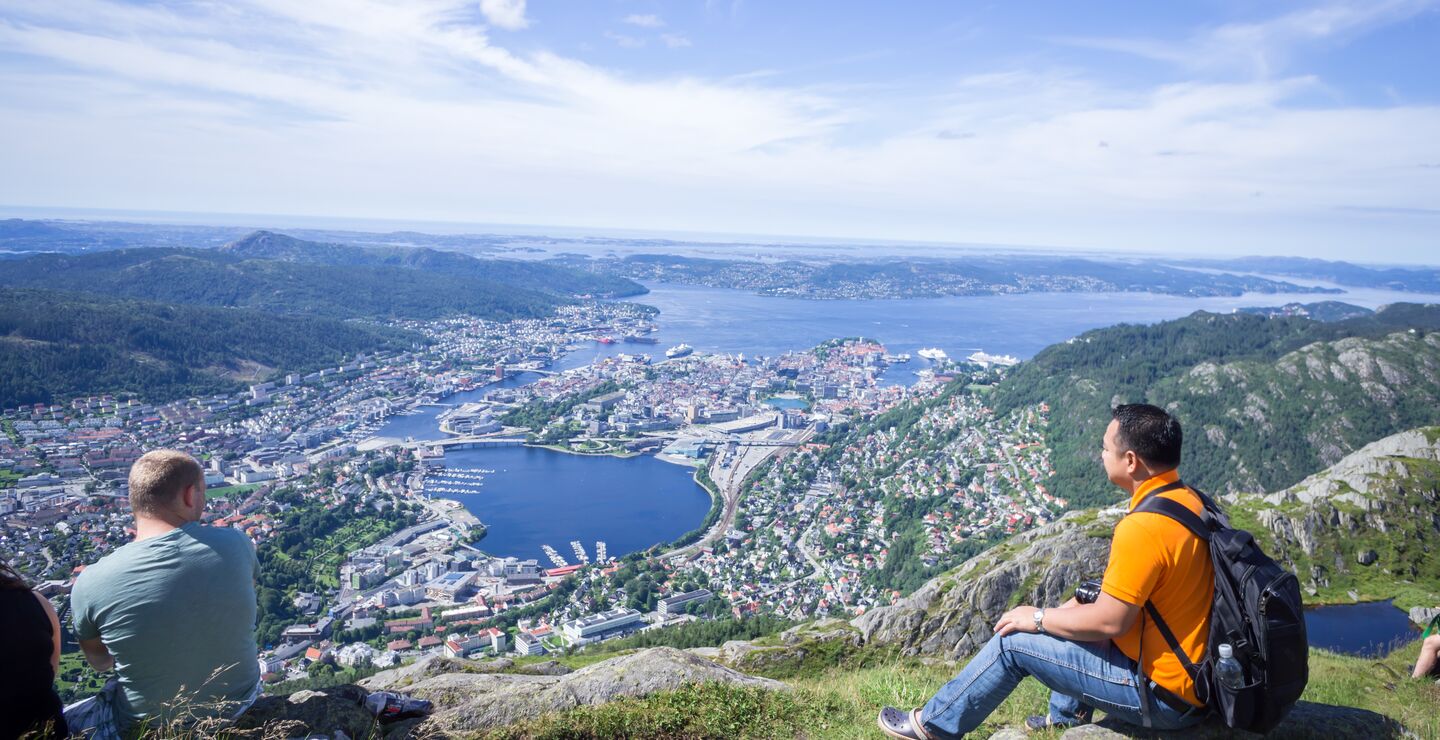 Lots of things we Norwegians love doing in the winter we can't do in the summer – and vice versa. There is always something to look forward to, and it makes us appreciate things more. Especially nature. And when it comes to nature, Bergen is boss. Situated on the west coast of Norway, protected by seven majestic mountains, it is also the gateway to the Norwegian fjords and the North Sea. If you're not exactly the outdoorsy kind, you will still appreciate the grandness of the view. You can even reach two of the mountains by cableway. But if you are someone who likes to explore and wants to know what the landscape has to offer, you will not be disappointed. By foot, bike or skies (depending on the season), you'll get varied and fun experiences in the city and the surrounding nature. Being one of the oldest ports in Northern Europe, the proximity of the sea is equally exciting. You can go rafting, sailing, kayaking, fishing, and swimming. Some Norwegians even go ice bathing during winter.
An international and historic city
There are only 132 places in Western Europe that are on the World Heritage List. One of those places is Bryggen in Bergen. It's the city's historic harbour, and one of the oldest ports in Northern Europe, established in the 12th century. The harbour has been rebuilt after a fire in 1702, closely mimicking the old property structure and building techniques. Therefore, it has kept its historical charm with its wooden houses and narrow pathways. But even though some areas in Bergen feel like visiting a historical time period some hundred years ago, it is still very much a modern, urban and youthful city. 280,000 people live in Bergen and almost 30,000 of them are students. Many of Bergen's inhabitants are of foreign descent, originating from the Hanseatic period when a lot of international workers and businessmen were connected to the port. Bergen has since then been an international city, and even has its own international strategy with one of the goals being:
Bergen is an active contributor for it to be an inclusive and attractive city to live and work in.
Be a part of an international academic journey in an inclusive community. Welcome!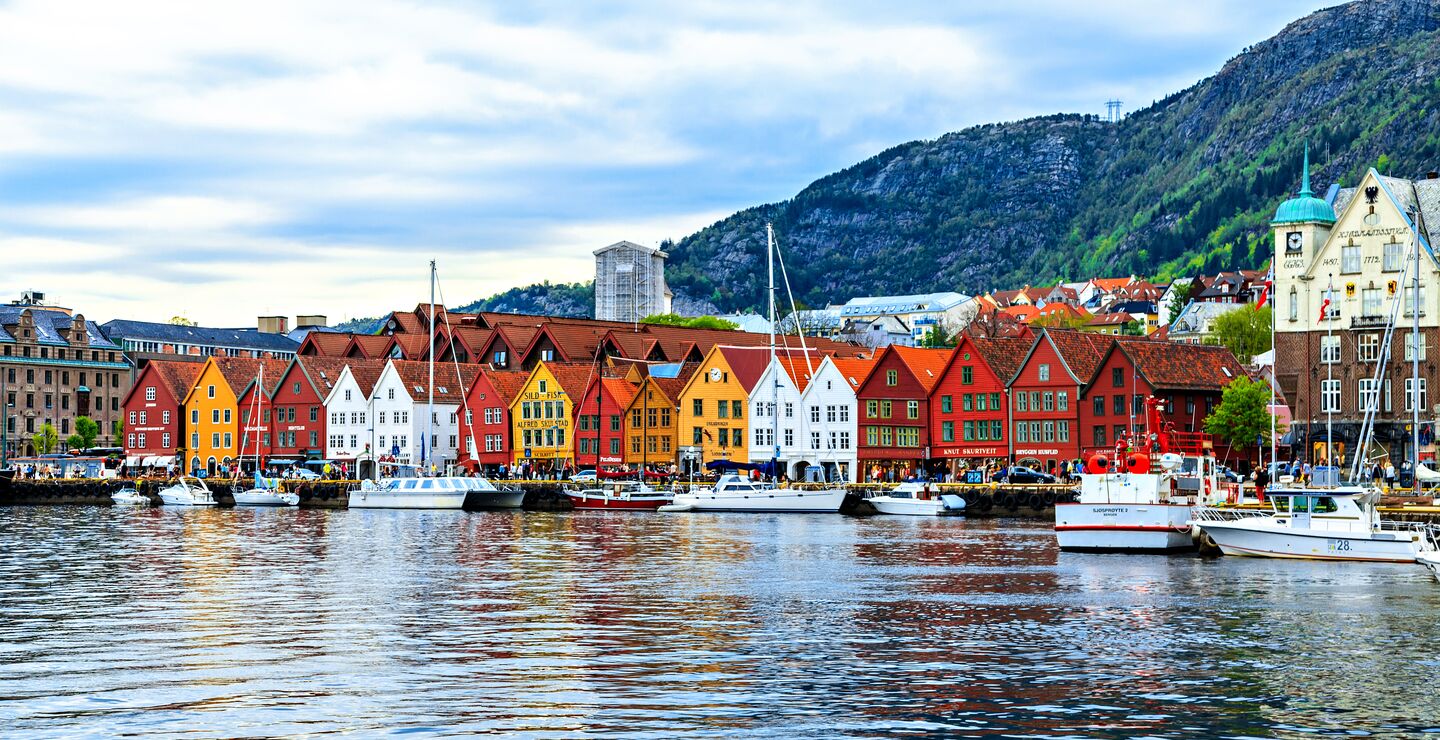 A safe and youthful city
If you want to experience something new, but don't want to risk too much, there is no better time to do it than while studying. In Bergen you will be in a safe environment in a city that cares about its people, and where students are a big part of the population. This creates a vibrant and youthful city which is well-suited for student living. Bergen is just big enough to make you feel like you're in a modern, European city with great possibilities. And it's just small enough to make you feel at home in a city where it's easier to make an impact both personally, academically and professionally.
A city with exciting business possibilities
Bergen has always been a leading city in international trade and shipping. Therefore, its maritime industry is particularly important. The city is also buzzing with innovation, and has a strong media hub and a growing tech hub. Students will benefit from BI's strong ties and connections to the community and businesses throughout their studies. We invite them into the classroom, to events and other meeting places, so our students can interact with and build networks with local and international businesses.
A cultural and lively city
Bergen is home for one of the world's oldest Symphony Orchestras. Music has always been a big part of the Bergen charm. But it's not only classical music that is bred here – a lot of young and exciting talents in all kinds of musical expressions come from this city. We've got black metal, pop, rap, jazz, experimental, and a lot of other music genres. Kygo and Aurora are two good examples of artists from Bergen, doing well on the international stage. Both have performed at Bergenfest, a large music festival in Norway, offering the best of Norwegian and international music from a mix of genres. Not only does Bergen bring music to the people – all kinds of artistic and cultural activities come to life and thrive here as well. The city hosts The Bergen International Festival, one of Scandinavia's largest arts festivals of its kind. Presenting music, theatre, dance, opera and visual arts, every year it has over 400 events during its two weeks, and invites over 100,000 visitors from all over the world. Bergen also offers a lot of good culinary options, and the city even has its own food festival and beer festival. Bergen simply loves a good festival and bringing good atmosphere and vibe throughout the year.