Conference
BI-JAMS Thought Leaders` Conference 2018
BI Norwegian Business School welcomes you to the BI-JAMS Thought Leaders' Conference on Generalizations in Marketing: Systematic Reviews and Meta-Analyses in Oslo, Norway, from June 3-5, 2018.
Norway
Norway is ranked as "The happiest country" in the world, on criteria such as freedom, honesty, welfare, good health, and generosity.
For more information about visiting Norway, please go to Visit Norway
Oslo
Oslo offers a unique combination of vibrant city life and the great outdoors. Discover endless activities and culture around the Oslofjord and surrounding areas with mountains, lakes, and forests. Captivating landmarks like the Opera House, the Astrup Fearnley Museum and Barcode are changing the face of the city, and Oslo maintains its refreshing closeness to nature that few other capitals can match.
Sightseeing in Oslo
A good starting point to see most of Oslo's main sights is the National Theatre.
City center
From National Theatre, you may want to walk to the Royal Palace (Slottsplassen 1) and then downhill on the main street, Karl Johans gate, where you can also do some shopping. You should not miss the National Gallery (Universitetsgata 13), as it hosts one of the original series of Edvard Munch's "The Scream".
The House of Parliament (Stortinget) will be on your way as you are heading towards the next iconic building—the glacier-shaped Norwegian Opera that is located very close to the central station. Take a walk on the roof of the Opera building in Bjørvika (picture of the Opera)
Make sure to visit Frogner Park, a unique sculpture park that consists of over 200 works of Gustav Vigeland. It is easy to reach by taking any metro line to Majorstuen. The Munch Museum could also be a good idea, and if you enjoy contemporary art, you will want to visit the beautifully designed Astrup Fearnley Museum at Aker Brygge.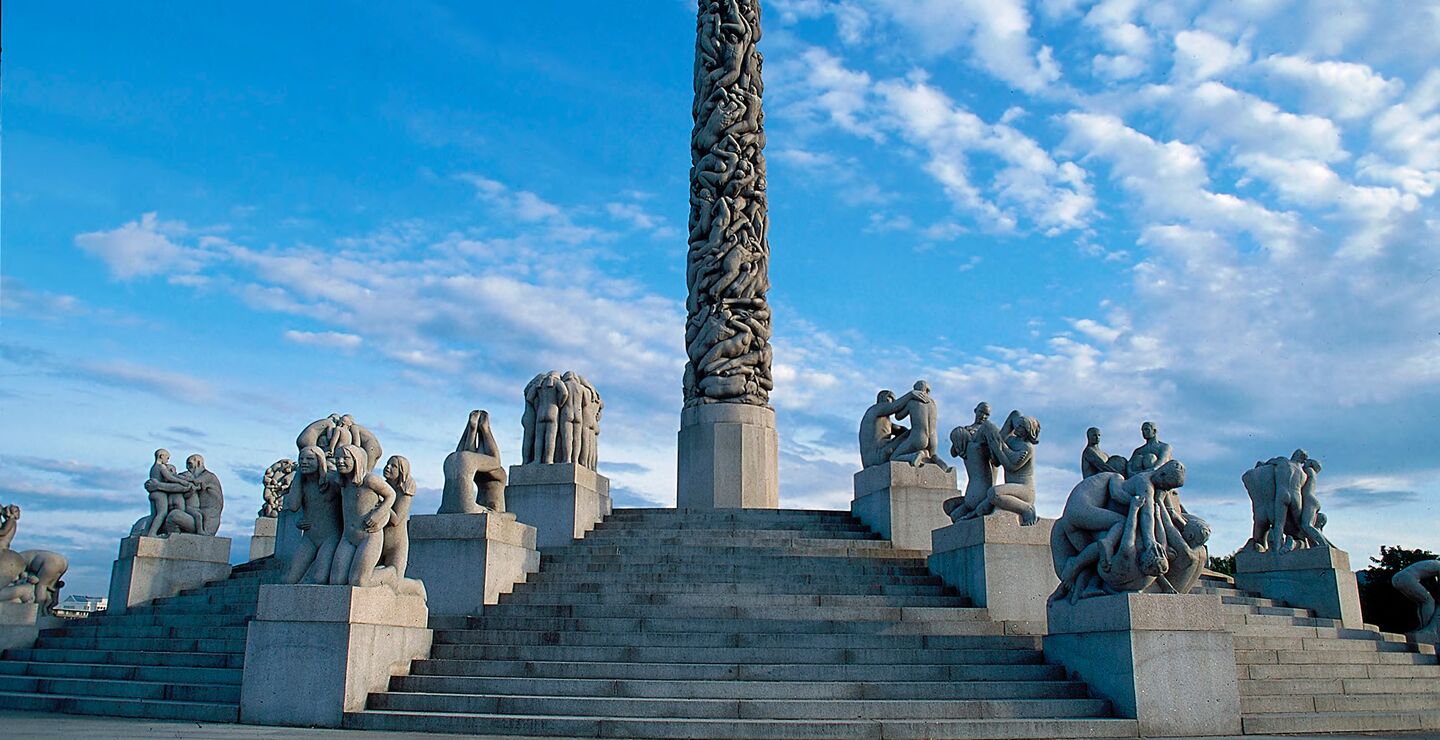 Experiencing nature
Fjords, lakes and forests can be reached within minutes via public transport from the city center. If you would like to get an out-of-the-city-feeling but don't have much time, you can go to the Sognsvann lake, a highly popular recreational area. To get there, simply take the metro line number 6 to the very last stop (about 20 minutes one way), and you will be able to enjoy a 4 km walk around the lake on a well-maintained path.
If you prefer panoramic views, it would be a good idea to head to the architecturally impressive ski jump at Holmenkollen with the metro line 1, and then continue to the final stop of line 1, Frognerseteren, where you have a scenic view on the Oslo Fjord (approximately 35 minutes one way).
Walking along the river Akerselva is very picturesque as well. For approximately 8 km, you will walk through soothing greenery and encounter several splendid waterfalls. You can start at Kjelsås (final stop of tram lines 11 and 12) and head all the way to the heart of the city, for instance Grünerløkka.
BI is located next to the river, so you can also start your walk from there. If you have a couple of spare hours, do not miss the chance to go island-hopping in the Oslo Fjord. To do so, you can simply use regular public transportation (certain ferries are a part of it). The departure point for these ferries is Aker Brygge (roughly between Akershus fortress and the inner harbor, by Aker Brygge, the pedestrian area along the waterfront). Other ferries take you from Aker Brygge (Rådhusbrygge 4, next to the City Hall) to the museum island Bygdoy (these are not part of the public transport system).
Visit Oslo webpage: https://www.visitoslo.com/en/
Practical suggestions
Visit Oslo website provides numerous practical information for visitors. Cashless payment is omnipresent in Norway, credit cards are widely accepted.
It is worth noting, however, that credit cards purchases typically require PIN verification (particularly for purchases from vending machines, e.g. train tickets, parking fees, etc.). Therefore, it is recommended to use debit (credit) cards that have chip and to know your card PIN code.
It is easy and convenient to use the public transportation network (metro, busses) for sightseeing in Oslo. In case you consider using public transport for sightseeing, we recommend purchasing a travel card with pay-as-you-go credit (which can be purchased from kiosks such as Narvesen, Seven Eleven or Deli de Luca).