Sustainability strategy
Student engagement
Our BI students show an inspiring and passionate drive to create lasting sustainable impact. Perhaps even more than any generation before them.
BISO – Dare to be more than a student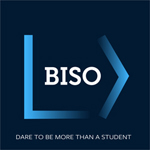 BI students operate a large student organisation (BISO) on all four Norwegian campuses, in Bergen, Trondheim, Stavanger and the largest campus in Oslo. Their key focus is to ensure a social and inclusive student life for all full-time students as well as an arena for personal development. Having a vibrant and diverse student organization is important for student's individual well-being and development as well as for creating social connections "for life".


BI believes a thriving student organization is important and funds BISO through annual budget allocations. BISO management self-manage these funds. BI also provides campus areas for free to BISO, for student offices and social meeting arena/cafés/pub. BI management has one seat on the BISO Board, to support the students. BISO has some external funding through sponsorships and collaborations with the business community, giving the students the opportunity to fund extra activities and obtaining valuable business experience.
BISO – students pushing for sustainability
In 2018, the BI student organisation wrote a "call to action" letter to BI management, calling for curriculum changes on sustainability and other initiatives, to address societal challenges.
BISO management has continued this development. BISO launched "BISO Impact" in Oslo in 2019 and appointed a role as "Head of Academics and Sustainability" in their local management team, to ensure overall focus on sustainability into both student teaching and own operations. BISO collaborates closely with BI to propel sustainability development and student engagement actions.
In late 2020, BISO campus Trondheim established the student body "BISO Bærekraft", focusing on student actions for sustainability, such as beach clean-ups and fundraising, as well as evening lectures from "green businesses". The goal is to expand BISO student sustainability engagement to all campuses and integrate into all student activities.
BISO IMPACT – the game changer