To encourage BIs master students to critically reflect about sustainability, the mandatory course Ethics and Sustainability in Organizations has an opinion essay competition each semester.
- In this competition, students are asked to apply what they have learned in the course, to critically reflect on what is actual sustainable business. This awareness and constructive approach is a key issue in the sustainability knowledge journey for future leaders, says Caroline Ditlev-Simonsen, one of the Professors responsible for the course.
Engaged winner team
The winners of the competition for the Autumn 2022 semester are Thea Sildnes Bakild, Maren Tyra Furuberg, Javed Seyed Mortazavi, and Marte Heitmann.
"One thing we liked about the opinion essay competition is that it allowed us to explore current global issues and think critically about potential solutions. It also encouraged us to form our own opinions on these topics, which will be helpful when dealing with challenges related to sustainability in the workplace", says the winning team, which will receive a 10.000 NOK prize.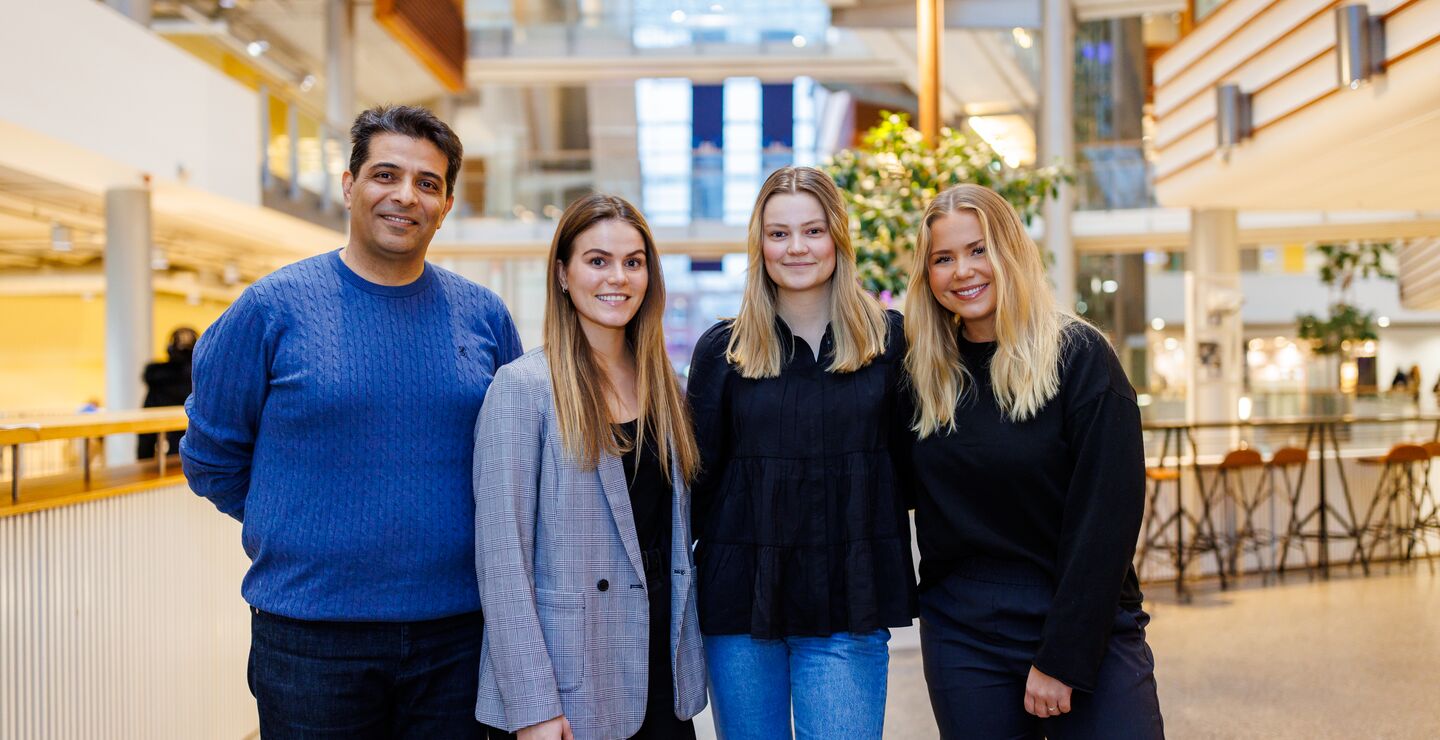 Winner team from left: Javed Seyed Mortazavi, Marte Heitmann, Thea Sildnes Bakild, and Maren Tyra Furuberg.

Their essay is about the dilemma that oil companies experience when they divest in the most polluting part of the oil business. What happens is that other companies with less expertise take over the operation. So even if the oil company that sold out did it to increase its own emissions, the overall emissions are not reduced.
Addressing a highly relevant business dilemma
The student team touches upon the issue of how a divestment strategy can actually do more harm than good when compared to a transition model.
"The essay highlights some of the main challenges companies face when trying to create a sustainable business model. What are the factors that outline the need for economic development and energy, especially in the global south, with strong social and environmental foundations at home? Says Knut Mostue in UN Global Compact Norway about this semester`s winning contribution.
He made up the jury together with Andreas Friis, Founder & Executive Director of Sustainability Hub Norway (S-HUB), Linn Meidell Dybdahl, Communication adviser at BI, and Caroline Dale Ditlev-Simonsen, Professor of sustainability and corporate responsibility.
Read the winner essay; The dilemma of quitting oil