News
World class talents arrive at Nydalen
17 February 2018
Student teams from nine different countries participated in BI's international case competition.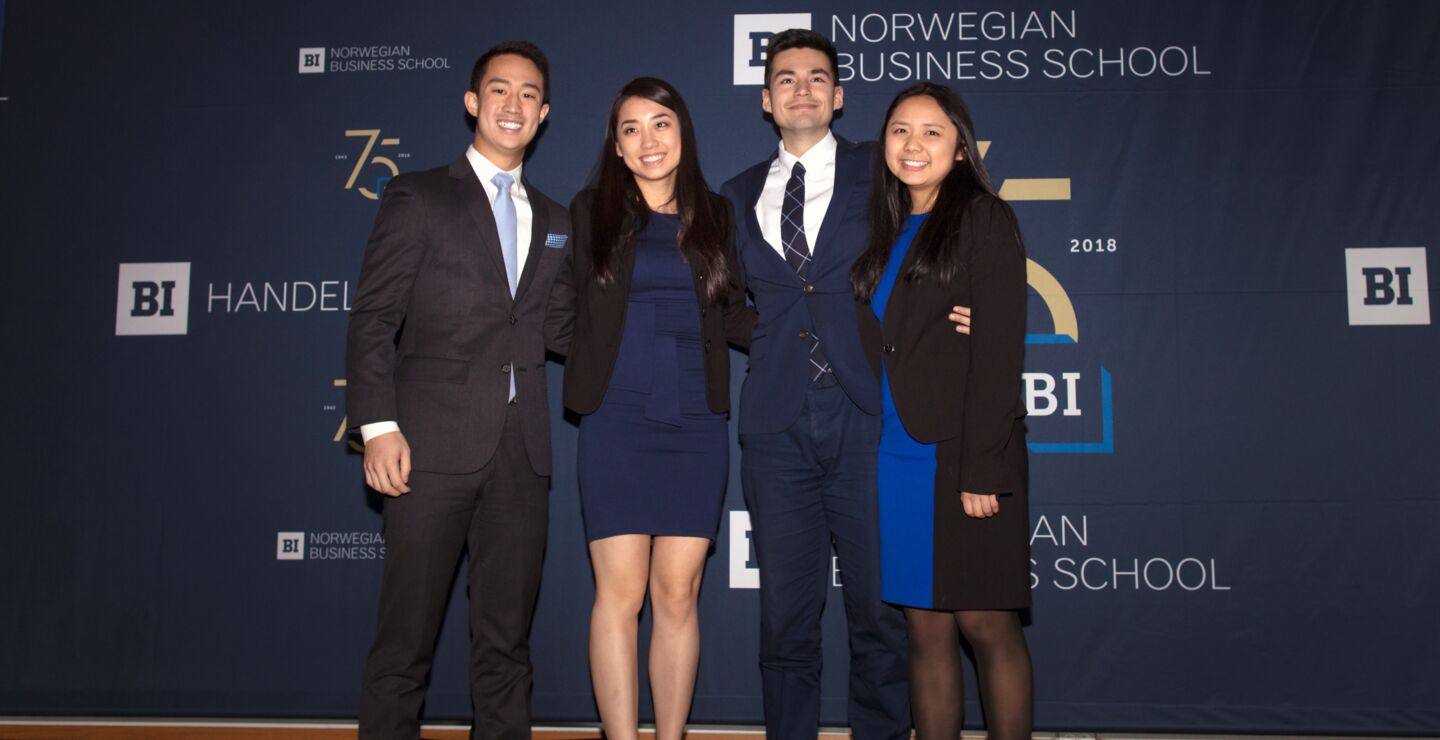 Winners of this year's BI International Case Competition was team Eagle Consulting from Wharton School. Richie Lou, Ximei Li, Nathan May and Emily Zhen.
- You have been challenged to help Orkla in improving operational efficiency throughout the supply chain. I look forward to seeing the finalists who present the three best solutions, BI president Inge Jan Henjesand said when he opened this year's BI International Case Competition (BIICC).
Nine teams from twelve countries became three, which were the National University of Singapore, The University of New South Wales and The Wharton School, University of Pennsylvania. This was the outcome after the teams had worked intensively with the case for 30 hours, "locked in" in each of their hotel rooms.
Ruthless competition
A BI team wasn't in the finals this year, but a little consolation is that in just a few years, the case competition has built itself up to become one of the most recognised international competitions of its kind and the level of competition is incredibly high, if we are to believe Mikael Harder, Director of Production Strategy & Development in Orkla:
- I have met at least 15-20 consulting companies in recent years who have pitched these kinds of projects to us. [...] In fact, none of them have delivered as much detailed insight and as much content as you have done over the last two hours, he said about the overall level when the time came to announce the winner.
In the end, The Wharton School, one of the United States' top business schools, went off with the victory in this year's competition. The team was was handpicked by an academic coach among a total of 25 teams who had applied to join.
- Several of us have participated in case competitions ever since we started school. But these international competitions like this held here in Oslo are, in a way, the top competitions in the world, where world-class teams meet and compete. And that's something we wanted to be a part of, said xx from Wharton's winning team.
Real case
The cases launched at BIICC are always based on an area that BI's partners wish to shine a spotlight on. In this year's competition, it was Orkla which is the leading supplier of branded consumer goods in the Nordic region. The students' challenge was to provide innovative and thoughtful strategies for how the supply chain could be streamlined.
- The most important thing students learn is to work interdisciplinary to solve a real business case, says case manager at BIICC Svein Lund, who is usually a lecturer at BI Norwegian Business School.
Students must identify issues and find a solution to them. Then they must show how the solution will be implemented and demonstrate on how profitable the investment will be. The judicial panel consists exclusively of Norwegian business leaders.
Teaches Scandinavian business culture
- International case competitions are also a great opportunity to get acquainted with business cultures in other countries. In order to succeed in BIICC, research needs to be done on Norwegian companies and the Scandinavian management model must be incorporated, Lund continues.
As part of the competition this week, a number of social activities, workshops and events have been arranged. In this way, the participants got to know each other and establish contacts across national borders.
- It's a great opportunity to learn about something in a short period of time. And to be able to meet teams from all over the world. I think there is probably not another opportunity to meet people from Norway, Denmark, Singapore all at once. And that we gather together to solve a problem. I think that's awesome, says xx, one of the other four students from Wharton's winning team.
Project Manager for BIICC Marielle Solvang Nilssen at BI Norwegian Business School is convinced that learning about cross-border cooperation is of great value for the students. She also takes off her hat to the ambitious and promising students:
- If you are worried that the future looks dark, you should see how good these students are, so you can sleep well at night.
Facts:
BI International Case Competition (BIICC) is divided into two parts. In November 2017 there was a national competition where BI students from all BI campuses participated. The winners of this went on to the international competition held yesterday.
This year's competition had participants from business schools in Singapore, USA, Australia, California, Switzerland, Thailand, Portugal and Denmark.
Marielle Solvang Nilsen and Svein Lund have been awarded an Award of Excellence by the International Business Association for Case Competition Coaches (IBACC) for their efforts in a short time building BIICC to become an internationally recognised competition.
This is the third time the competition has been organized.
48 participants divided into twelve teams from nine different countries participated.
The event took place at BI Norwegian School of Business - Campus Oslo, February 10-16.
;