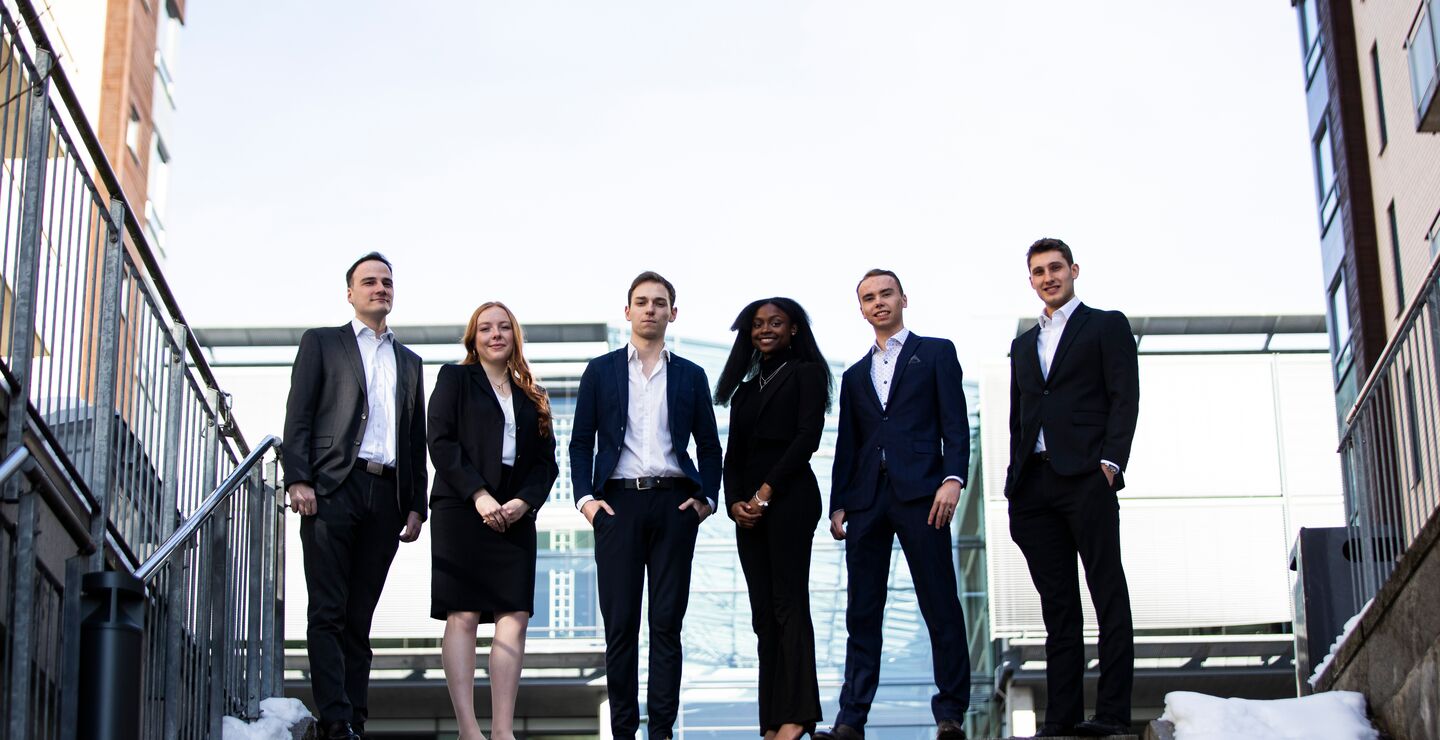 The team from BI Norwegian Business School look forward to competing in the Vis Moot 27-30 March.
"The Willem C. Vis Moot provides the unparalleled opportunity to apply the knowledge from my business degree and work experience to a real-life simulated legal dispute", says Cassandra Stead, one of the team members.
So-called moot courts are an important part of legal education. In the Vis Moot, students from more than 300 law schools around the world compete in giving the best oral and written arguments.
In addition to Cassandra, the group consists of Kyla Basden, Radek Tyl, Sebastian Stuyvenberg, and Yoan Kardzhilov. They are all students at BI's bachelor's programme in business administration.
Participants in the moot are presented with a legal problem and asked to argue their case for how to solve it.
"This year's Vis Moot pertains to a dispute between companies developing a COVID-19 vaccine and the potential intellectual property overlaps in relation to the technology used," Radek explains.
Like the rest of the team, he welcomes the chance to take on a topical problem.
"The legal ramifications and ethical dilemmas that arise when COVID-19 meets the legal field have opened my eyes to the scale at which the pandemic is affecting the globe," says Yoan.
Their lecturer and supervisor, associate professor Milos Novovic from BI Norwegian Business School emphasizes the value of participating.
"Moots allow our students to develop their writing and oral advocacy skills, as well as to test their knowledge against some of the world's most prestigious law schools. At the same time, the moots are important for BI – showing our commitment to internationalization, academic excellence, and cooperation with our local and global partners," he says.
"Even Harvard and Oxford are participating," agrees Radek. "It's terrifying, but the intense competition pushes us to work harder and deepen our knowledge of international law."
All five students look most forward to the oral arguments.
"They are the culmination of almost six months of research and hard work that has resulted in two memorandums arguing both sides of the case," says Sebastian.
"Competing against some of the best legal minds of our generation is no small feat and I am honored that we have the opportunity to represent not only BI but Norway in the competition," Kyla concludes.
The arguments will be held digitally on 27-30 March, and winners will be announced on 1 April.