A fresh approach to management and leadership is needed to guarantee positive results under changed circumstances. Cultural leaders need to have the proper knowledge and self-confidence to make strategic decisions about responding to multiple challenges and developing ways of working. To grow into and succeed in a demanding leadership position, leaders need skills and competencies to impact beyond their organization and the field itself. This new era calls for new business skills and a change in leadership mindsets.
The program is designed to enrich and develop participants' understanding of how effective leadership, business acumen, networking, and collaboration can transform their organizations. It equips leaders and executives with strategies and tools to advance their organizations effectively.
Did you think that business and culture are two completely separate realms? In reality, both can learn from each other. Read on as Nana Salin and Karri Kaitue talk about the benefits of mutual learning.
Who is the program for?
The program is designed for professionals working in arts and culture organizations in the Nordic and Baltic countries. We are looking for highly motivated candidates who will bring their strong management and leadership experience to the program and stimulate cross-fertilization of insights and expertise from their field.
We are seeking applicants who can demonstrate:
Minimum five years of relevant work experience in managerial or senior specialist positions
Hunger to grow as a leader and enthusiasm in embracing and living the business of culture
Committed to driving the sector into new areas of collaboration between culture and other industries
Past participants, the alumni, have represented various cultural fields and came from leading positions in their organizations. The networks they built across fields and social capital are now serving as a source of advice, business, and friendship.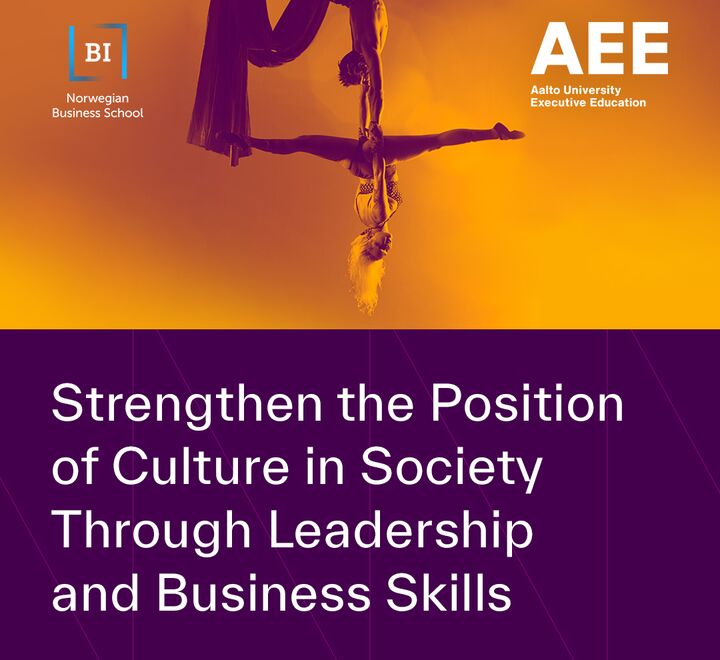 Download the brochure Business of Culture for further reading.
The modules
CoPassionate Leadership
Distinctive Business
Strategic Relations
The Business of Culture program will be run in Copenhagen, Helsinki, and Oslo during a half-year study period from November 23, 2022 to May 12, 2023.
Register for the program and apply for the scholarship via the application link by August 30 2022. You will find more detailed instructions for the application of the scholarship at the Aalto University Executive Education's page.