Calendar
BI International Case Competition 2020
BI International Case Competition 2020 invites prestigious schools from all over the world to compete in solving a real business case, provided by one of our strategic partners.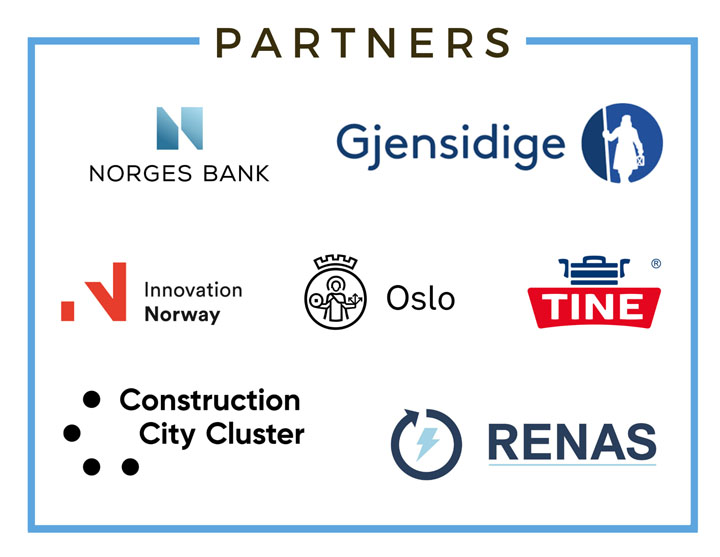 Strategic partners
Accommodating the entire value chain from promising startups to legacy entrepreneurs, Construction City is where companies work and meet to share insights and collaborate on the projects that will lift the industry's competitiveness.

Construction City aims to be the defining center of excellence and showcase for the Norwegian construction and real estate industry. To move from wanting change to facilitating change, Construction City represents the gathering of a national team of construction and real estate companies to spark more efficient, competitive and sustainable practises.

The business cluster is a driving force for collaboration and the development of new solutions in the construction and real estate industry.

The cluster provides physical and virtual meeting places for its members. A broad range of activities aim to stimulate interaction and the transfer of experience within the cluster. The initiation of collaborative projects increases the members' ability to innovate and helps build the industry's international focus.

Gjensidige is a leading Nordic general insurance company. For nearly 200 years, we have been involved in our customers' lives. Working in one of the biggest insurance companies in the Nordic region entails great responsibility, not only in relation to our customers and their lives, but also in relation to society at large. Among other things, Gjensidige shall ensure that everybody benefits from the Group's experience and expertise in the prevention of loss and accidents.

Through continuous collaboration across professions and disciplines, you will come into contact with a wide network of people and learn more than you ever expected. The Gjensidige Customer and Brand School will give you the opportunity to learn everything you need to be able to do an optimum job after being appointed, and to continue to develop through attending relevant courses.

INNOVATION NORWAY creates value by stimulating to profitable business development throughout Norway. Our programmes and services are intended to create more successful entrepreneurs, more enterprises with capacity for growth and more innovative business clusters.

Innovation Norway is the Norwegian Government's most important instrument for innovation and development of Norwegian enterprises and industry. We support companies in developing their competitive advantage and to enhance innovation.

WE CONTRIBUTE TO:

Enhancing innovation in Norwegian enterprises and industry
Building competitive Norwegian enterprises at both domestic and international markets
Promoting Norwegian enterprises
Promoting Norway as an attractive tourist destination
Securing development in rural areas
Transforming ideas into successful business cases
Promote interaction between enterprises, knowledge communities and R&D institutions

Norges Bank's mission is to promote economic stability and manage substantial assets on behalf of the Norwegian people. Norges Bank has executive and advisory responsibilities in the area of monetary policy and is responsible for promoting robust and efficient payment systems and financial markets.

Norges Bank is responsible for the management of Norway's foreign exchange reserves and the management of the Government Pension Fund Global (GPFG) on behalf of the government. The investment strategy of the GPFG is designed to obtain the highest possible return within the framework of the investment mandate.

Norges Bank is a separate legal entity owned by the state.

The experience in Norges Banks Education center is based on knowledge sharing and interactive learning about the central banks task and economic issues. The game "Horizon",is to build knowledge about macro and micro economical contexts. The participants are taken on a journey that builds knowledge step by step.

The City of Oslo holds both municipal and county functions.

The City is responsible for a wide range of matters, including elementary school and pre-school education, cultural institutions and events, health care services, social services, child protection services, housing and urban renewal, local roads, local transport for people and goods, parks and green areas, environmental issues, land use and urban planning.

The City is also responsible for secondary education, technical colleges, secondary road systems and other activities that are not decided at the national level.

RENAS is an Extended Producer Responsibility (EPR) organization for waste electrical and electronic equipment (WEEE), or e-waste. We assume the responsibility producers and importers have for collection, environmentally sound treatment and recovery of materials from WEEE.

With 14 treatment plants and 100 collectors across Norway, RENAS fulfills the producer responsibility for around 3,000 manufacturers and importers of EE products. RENAS is a non-profit organization, owned by the Elektroforeningen (EFO) and the trade association Elektro og Energi.

RENAS aims to provide cost-effective and environmentally friendly collection, treatment and recycling of electrical and electronic waste, in accordance with current regulations and certification requirements. We urge our treatment plants to achieve the highest possible recovery rates for all products and material streams. We encourage the use of best available technology (BAT) and innovation in treatment and recovery methods.

RENAS also plays an important role in the circular economy. This responsibility extends beyond ensuring that waste is recycled, and that pollutants and hazardous substances are handled safely without harming people or the environment. We aim to be a driving force for the recyclers, the industry and for government. This includes contributing to innovation, development and new industry opportunities related to the materials we handle. Our focus is good resource management for the long-term.

The TINE Group is one of Norway's leading FMCG (fast moving consumer goods) companies with strong brands like TINE, Norvegia, Jarlsberg, Sunniva og YT. Our brand building and product development has given TINE a unique position among Norwegian consumers. Our business concept involves producing pure, natural ingredients to make tasty, healthy food in close partnership with nature, agriculture, consumers and trade. The TINE Group also includes subsidiaries in Sweden, UK, Ireland and the USA as well as Diplom-Is, Ostecompagniet and Fjordland in Norway. TINE is owned by 10,120 dairy farmers and is organised as a cooperative association. Our Vision is "Together we create a living Norway" which represents our commitment to sustainability, health & nutrition, animal welfare and maintaining a living cultural landscape in Norway.