Calendar
BI International Case Competition 2019
BI International Case Competition 2019 invites prestigious schools from all over the world to compete in solving a real business case, provided by one of our strategic partners.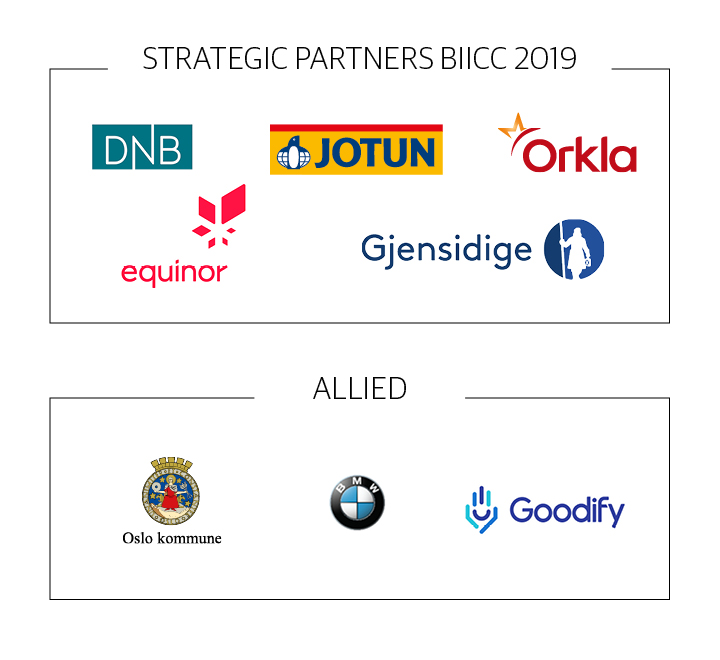 Strategic Partners (in alphabetical order)
DNB is Norway`s largest financial services group and one of the largest in the Nordic region in terms of market capitalization. The Group offers a full range of financial services, including loans, savings, advisory services, insurance and pension products for retail and corporate customers. We are a major operator in a number of industries, for which we also have a Nordic or international strategy. DNB is one of the world's leading shipping banks and has a strong position in the energy sector, and the fisheries and seafood industry.

The banking and finance industry is changing and customers' behavior in a constant development. Banks and other financial institutions are challenged on every part of their business. Therefore, DNB has full focus on digitalization and business development. We would like to be the first with innovative solutions in the new digital banking business and have ambitions to become one of Europe's leading technology companies.

There are countless opportunities at DNB, and we think that is why we have been voted as Norway's most attractive employer for financial students for several years. Now, we are also at the forefront for technology students. This motivates us to become even better, while making us more aware of our responsibility and role in society.

We're Equinor, an international energy company with a proud history. Formerly Statoil, we are 20,000 committed colleagues developing oil, gas, wind and solar energy in more than 30 countries worldwide. We're the largest operator in Norway, among the world's largest offshore operators, and a growing force in renewables. Driven by our Nordic urge to explore beyond the horizon, and our dedication to safety, equality and sustainability, we're building a global business on our values and the energy needs of the future.

Gjensidige is a leading Nordic general insurance company. For nearly 200 years, we have been involved in our customers' lives. Working in one of the biggest insurance companies in the Nordic region entails great responsibility, not only in relation to our customers and their lives, but also in relation to society at large. Among other things, Gjensidige shall ensure that everybody benefits from the Group's experience and expertise in the prevention of loss and accidents.

Through continuous collaboration across professions and disciplines, you will come into contact with a wide network of people and learn more than you ever expected. The Gjensidige Customer and Brand School will give you the opportunity to learn everything you need to be able to do an optimum job after being appointed, and to continue to develop through attending relevant courses.

JOTUN is one of the world's leading manufacturers of decorative paints, marine, protective and powder coatings. The Group has 64 companies and 37 production facilities on all continents, and more than 9 800 dedicated employees, and still growing.

Jotun makes a mark. We make our mark on steel bridges, large ships, famous landmarks and living room walls. Our success relies on world class innovations and the Penguin Spirit that unite our 10 000 employees across the globe. By being one of us, you get to make your mark. Your mark on our innovations, our solutions, our culture.

Your success is our success, our success is your success. We call it MAKE Y/OUR MARK.

Orkla is a leading supplier of branded consumer goods to the grocery, out-of home, specialised retail, pharmacy and bakery sectors. The Nordic and Baltic regions and selected countries in Central Europe are Orkla's main markets. The Orkla Group also holds strong positions in selected product categories in India.

Orkla's Branded Consumer Goods business comprises the Orkla Foods, Orkla Confectionery & Snacks, Orkla Care and Orkla Food Ingredients business areas. Orkla also has operations organised under the Orkla Investments business area, consisting of its investment in and Jotun (42.5% interest), in addition to Hydro Power and financial assets.

Orkla ASA is listed on the Oslo Stock Exchange and its head office is in Oslo, Norway. As of 31 December 2016, Orkla had 18,154 employees. The Group's turnover in 2016 totalled NOK 37.8 billion.

Orkla's strategy is to strengthen its position as the leading branded consumer goods company in the Nordic and Baltic regions and selected other markets. Through closer cross-group collaboration, as "One Orkla", Orkla will improve its long-term competitiveness, while continuing to build on its local presence.